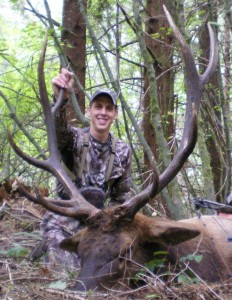 Zac Cochran
Zac was exposed to bow hunting at a very young age by influence of his father, Mike Cochran. In witnessing his father arrow a cow elk at 15 yards, Zac was hooked by the age of three. Over the next several years he would fine tune his archery skills allotting him much success as a young hunter. Zac loves the sound of screaming Roosevelt's in late September and looks forward to the challenges that accompany each response.  Thanking God for his talents, and his wife Olivia for supporting his passion, Zac has had much success in the sport.
Mike Cochran
Mike has been blessed with a wonderful father and grandfather who has passed down to him their knowledge and skills of bow hunting. As true heroes in his life, Mike has learned firsthand from the generation of hardcore hunters. Having been in the woods with a bow and arrow for over 30 years, Mike has refined his ability to successfully hunt Roosevelt Elk and Blacktail Deer. He has a great wife Dianne, as well as two children, Felicia and Zac. Whether it is the smell of spring bear, the sound of September bulls or the chill of November black tails, it always means one thing: GAME ON!!!
Alex Brown
Born and raised in the heart of the Willamette valley, Alex has always found himself with a love for the outdoors. It wasn't until he received his first bow at the age of 11 that his passion for archery hunting truly ignited. He enjoys the challenges of Western Oregon bow hunting, and the diversity within each hunt. Upon committing to the Engineering program at Oregon State University, his dedication to archery hunting has been tested. Balancing the responsibilities of school and hunting has been difficult, but his personal commitment to the outdoors has not wavered.