December 12, 2011
This has been an action packed weekend for ZMA as we capitalized on our last two days of late blacktail season and managed to fill our tags! We hunted hard all season with not much action, and it all came together Saturday afternoon and again on Sunday morning!
Mike's reclusive 3-point blacktail:
After spending the majority of the season in stands that we scouted hard for early on, we quickly learned that the weather was taking its tole on the blacktails in the area. The trail cams have shown nothing but 12am to 4am movement, with cold, crisp, clear mornings that seem to amplify the sound of a hunter walking through the woods!
Saturday after sitting a morning stand, Mike got a wild hair to ground hunt some steep National Forest timber that has a series of bluffs throughout. From about 10am until 2pm, the bluffs are bedding grounds for blacktail bucks as the sun rays work to warm the air. Mike knew that the deer frequenting this area are typically bucks that are resting up from rutting hard for the past few weeks, so this hunt was total stealth mode; creeping along one step at a time, glassing everything the land had to offer. After ascending through the bottom half of the stand, he slowed his pace as he planned to spend the entire afternoon in search of a buck. He cam up over a small ridge and busted a spike buck that was bedded not 20 yards from him! The spike blew a couple times causing this nice 3-point to stand up on top of a small rise 55 yards away. The buck was clueless of Mikes location, and was focusing his attention on the spike allowing Mike to range the buck, and draw his bow. Mike had a small lane that was low to the ground…. shooting from his knees he let one fly just as the buck was beginning to step over the ridge.
He was unsure about the shot because it all happened so fast, so he gave it some time and crept up to find his arrow. After he got to where the buck was, he spotted another deer bedded just below him…. oh wait that is his buck, and he is not bedded, rather laying on his side. Turns out they don't run far with an arrow through the heart!!!! It sure did not look like tags were going to be filled this late season, but with persistence, we broke down their patterns and capitalized!!!!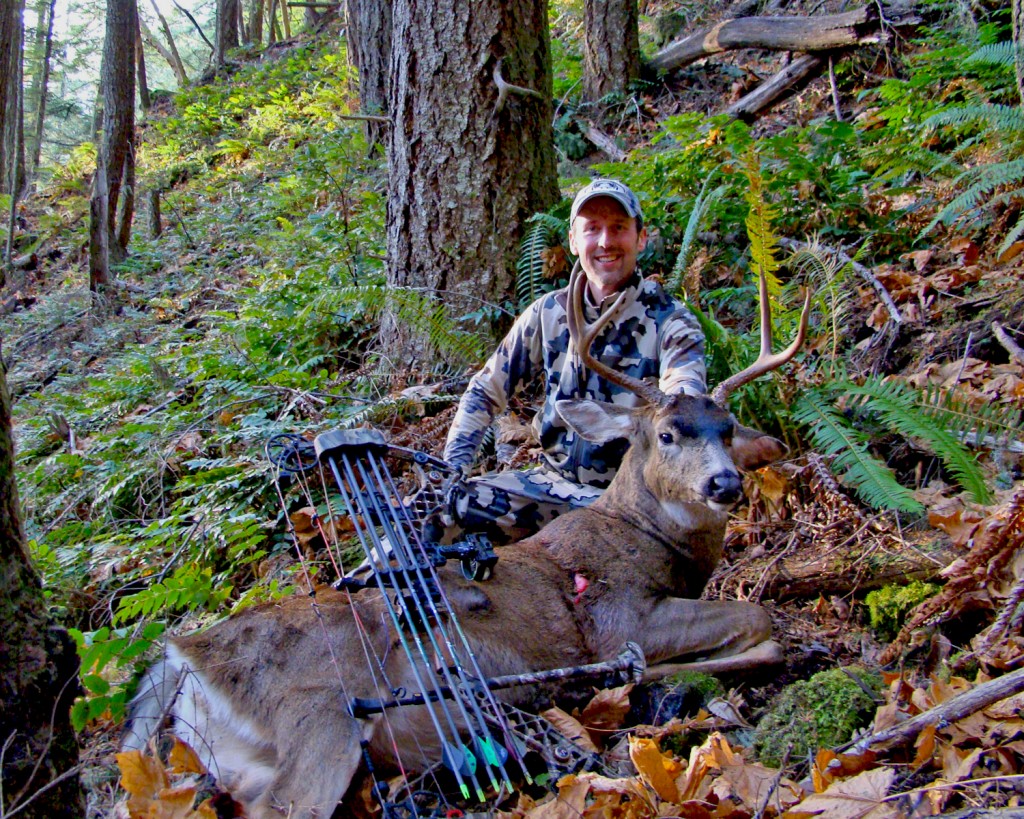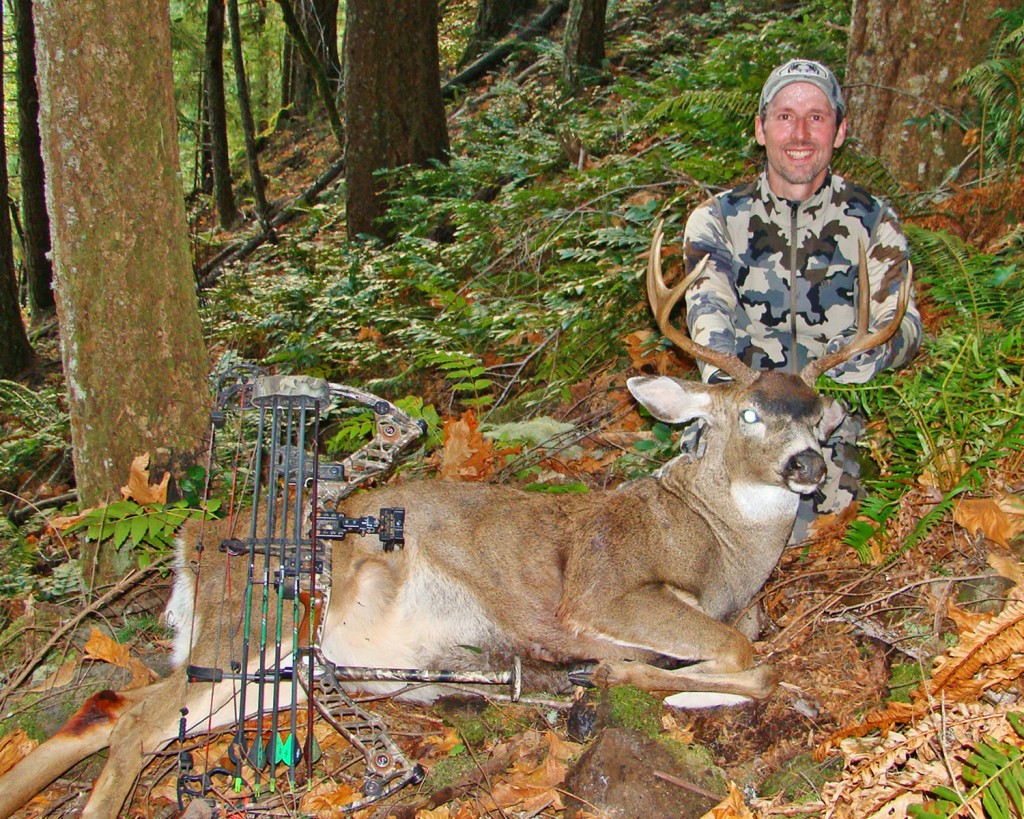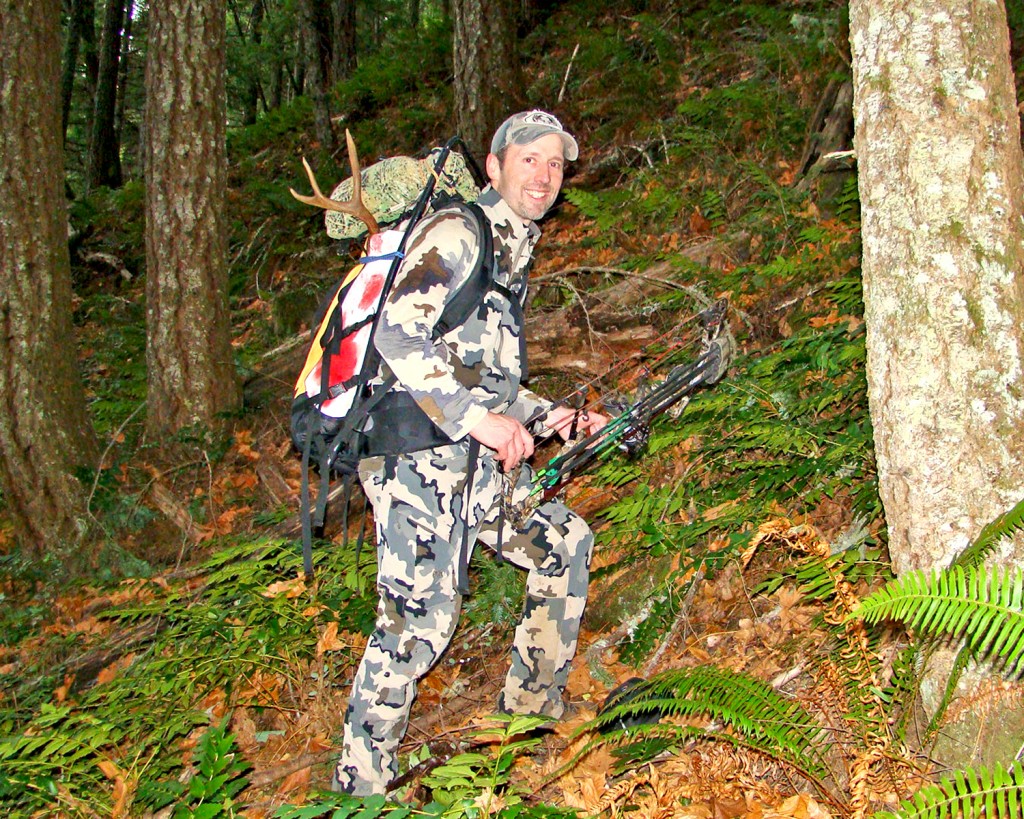 Zac's last day blacktail:
1 day, 1 tag, was our mission as we set out this morning in pursuit of, well, just about any deer with horns ha ha! The standards fell dramatically as we were just hours away from season ending. The thought of wrapping Zac's 2011 deer bow tag around a set of antlers was all we needed for motivation!
We were working a reprod patch that has a history of holding deer late in the season, and jumped this buck out of his bed. He was with a doe, and they both ran down onto the road, unknowing of our exact location. Confused, the buck ran directly towards us when Zac grunted with his mouth to stop him. He hit the brakes at 30 yards, quartered to us looking the other direction. With the camera rolling, Zac sent one into the cavity. The shot was high as the buck loaded up and whirled at the last second, making for a hands and knees hoof tracking job. The blood trail was never more than a couple specks, and at one point he had not dripped a single drop in over 80 yards! We were almost convinced that it was only a muscle hit. The sight of failure was beginning to creep over us with each step….. Pouring every ounce of concentration and experience we have into this track job was a must! After a solid 175 yards and about an hour and a half of searching, we found him tipped over on the edge of a clear cut. The sight of a forked horn has never looked so good
It is definitely not the biggest buck, but a great hunt, meat for the freezer, and we managed to come away with 0 blacktail tags! Great job Zac!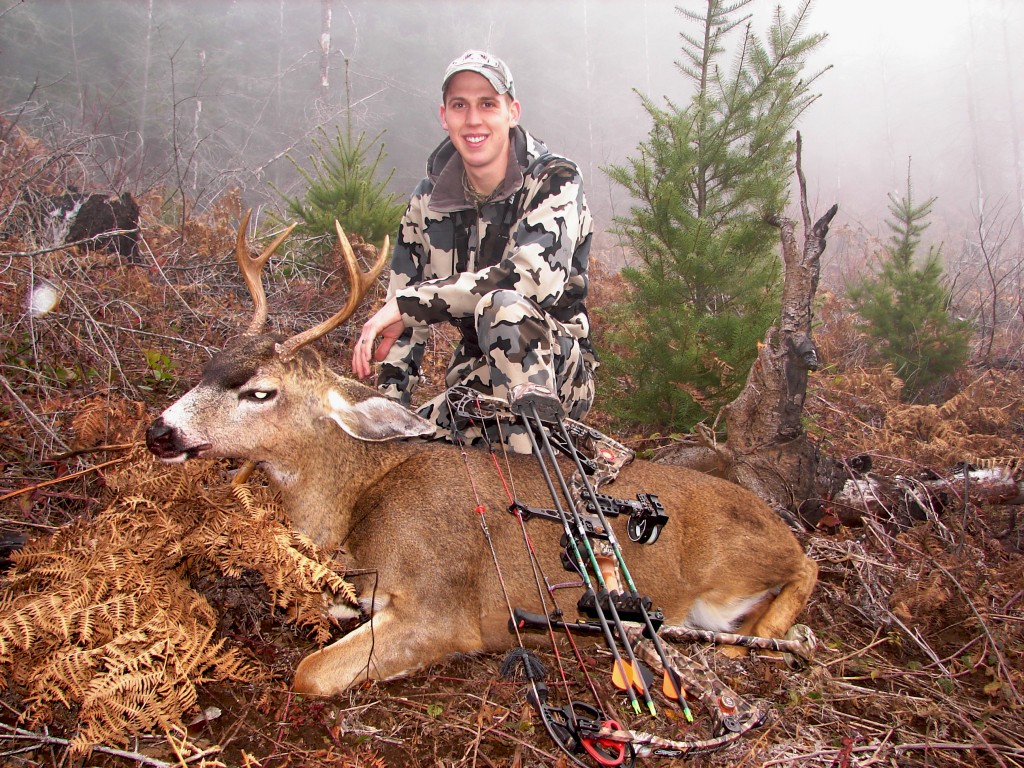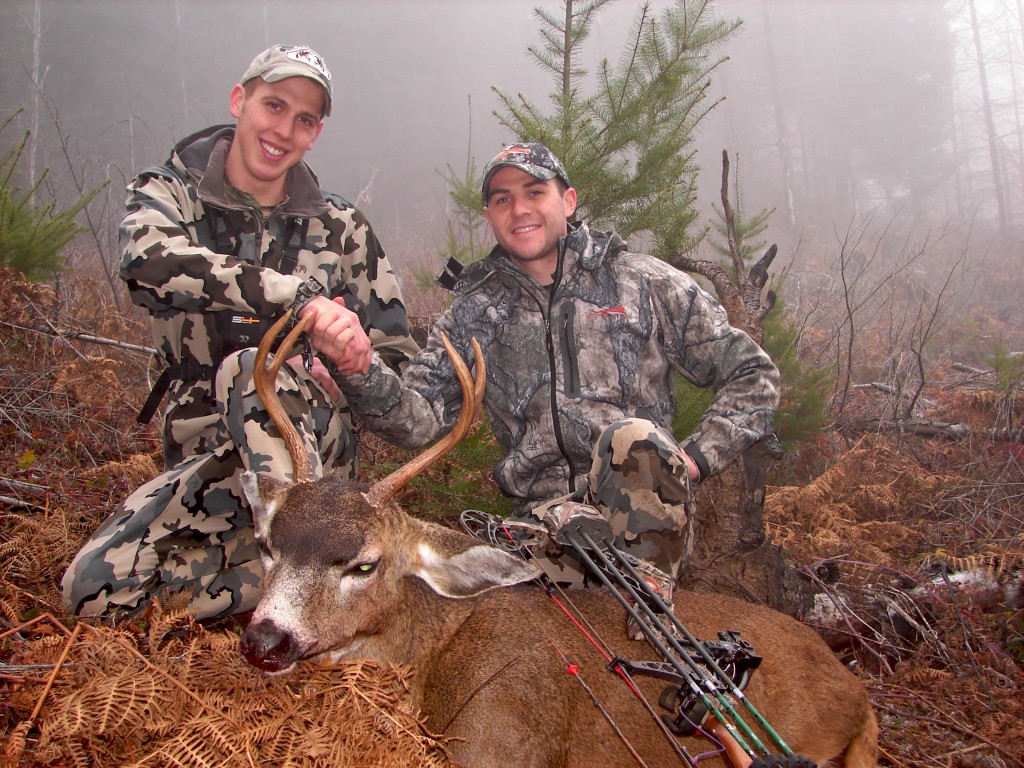 December 5, 2011
Well this Blacktail season has been unusually slow for us this year. It seems like our biggest problem has been the weather. We have noticed that on these clear cold days the Blacktail movement in daylight hours seems to be non existent. With minimal movement during daylight hours and extremely calm days the hunting has been tough. We were able to get this toad of a buck on our trail camera a couple of times.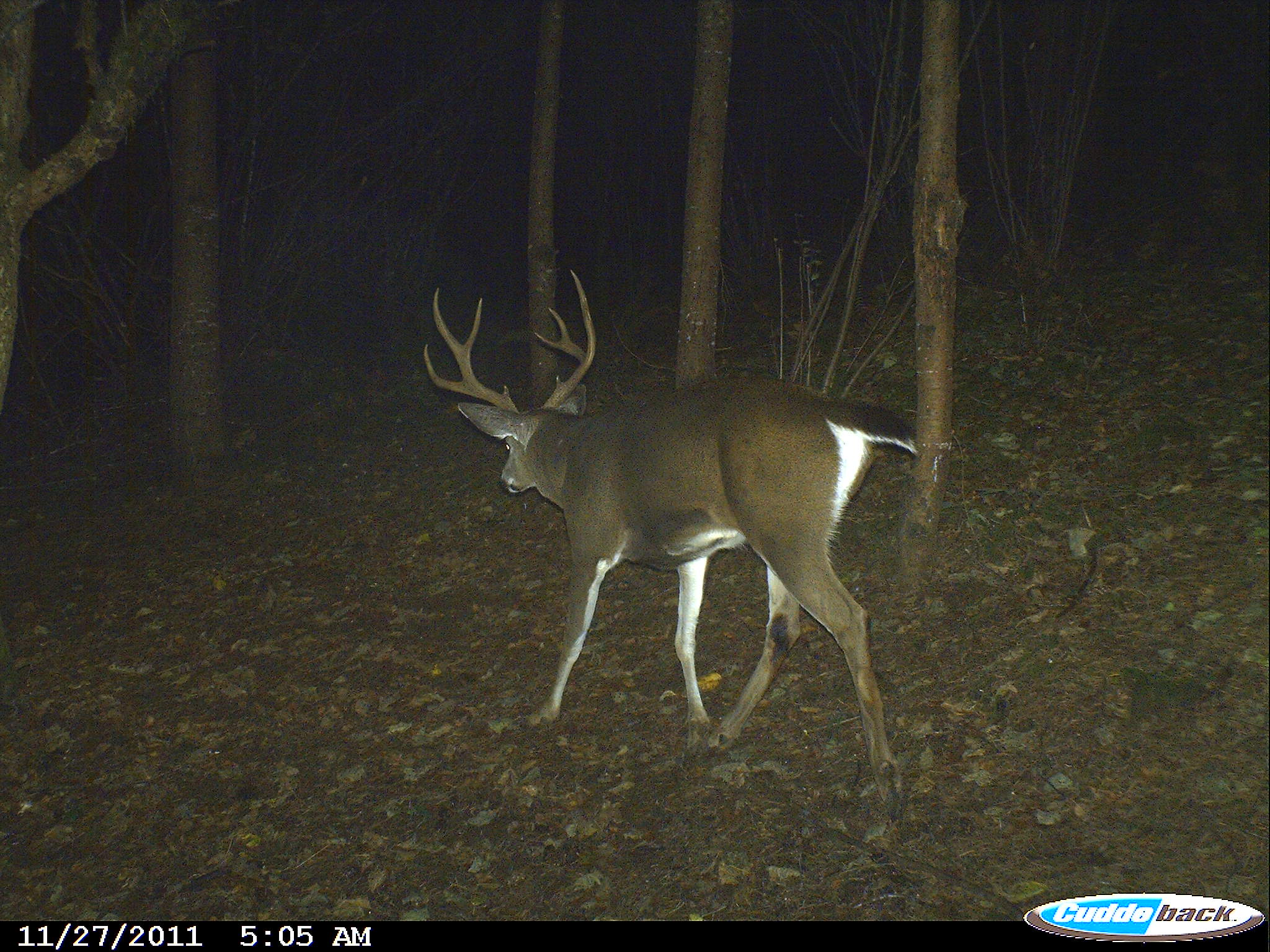 This forked horn came right by our stand last Saturday morning. He is looking pretty good this late in the game! Look hard for the Ghost horns. We will be pursuing hard till Sunday to try to capture another Blacktail hunt on film!
November 22, 2011
Saturday morning Zac and I hit the stand for Blacktails, and little did we know, we were in for a pleasant surprise. We quickly learned that the deer were on the move first thing Saturday morning. Right after light we had a doe under us at 11 yards, followed by a spike buck showing some rutting activity. We began short bursts of doe bleats and within 5 minutes we had a shooter 3 point at 30 yards behind a wall of brush. It was a waiting game for this guy to present a shot.With the camera rolling and focusing in on Zac staring down this buck, I herd brush crashing to my right. Just then Zac looked at me and said "BIG BUCK!" A monster 4 point right on the heels of a doe was heading down the trail in front of the stand. Zac drew his Z7 as I began to zoom in on the shooting lane. Out of nowhere, the doe decided to dive into the brush just a few steps before our opening, and the mature buck followed close behind. It was tight stuff with many overhanging limbs and the buck would not stop for any noises we made. They worked around our tree at 20 yards, never presenting a shot and we watched them disappear into a swampy thicket.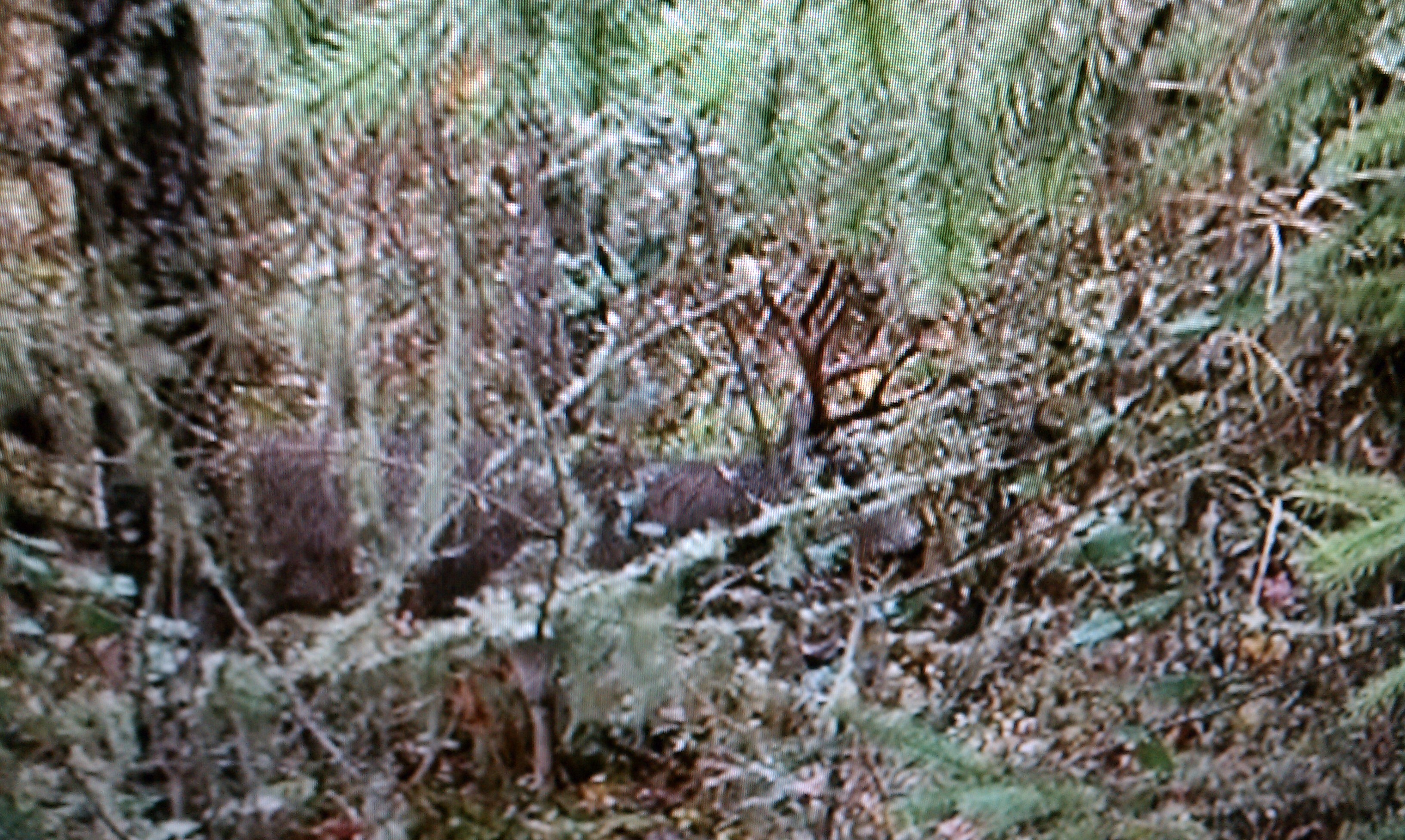 We kept asking ourselves how it did not work out as it all looked perfect just seconds earlier! Yet again, we were reminded of the difficulties in taking a mature blacktail buck! The three point in front of us didn't like the situation and busted. The nearby timber grew silent, and the deer seemed to vanish shortly after. Such an action packed morning ended as quick as it began, leaving an unfilled tag in our pocket. Now that the weather front has moved in, we hope the break for the holiday will bring movement on the transition trails, allowing for another opportunity at a mature blacktail buck.
November 13, 2011
With Blacktail season right around the corner we will be focusing hard to capture more quality hunting on film. The deer movement seems like it has really picked up this week. We got some neat footage of a 3 point buck wandering around looking for a doe. The weather is looking great for this up coming weekend! Good luck to everybody this Saturday. Hope you enjoy this highlight video of our 2011 early season!
November 9, 2011
We were able to check three trail cameras today after work. Finally starting to see some deer moving! It has been really slow for us the last couple of weeks.  In the past we have noticed that Halloween typically is the mark for Blacktails to start moving, trail cam photos really start picking up after this date. This year we seem to be a solid week behind. First good movements we have seen was November 6. Hopefully this will result in a little later rut this year!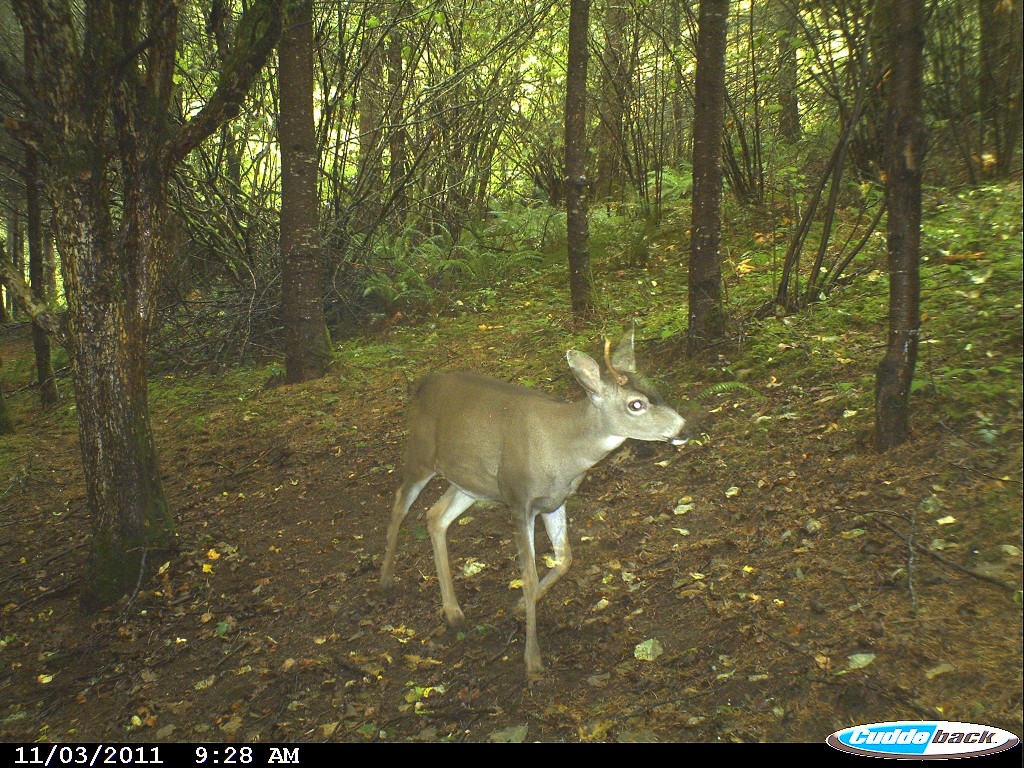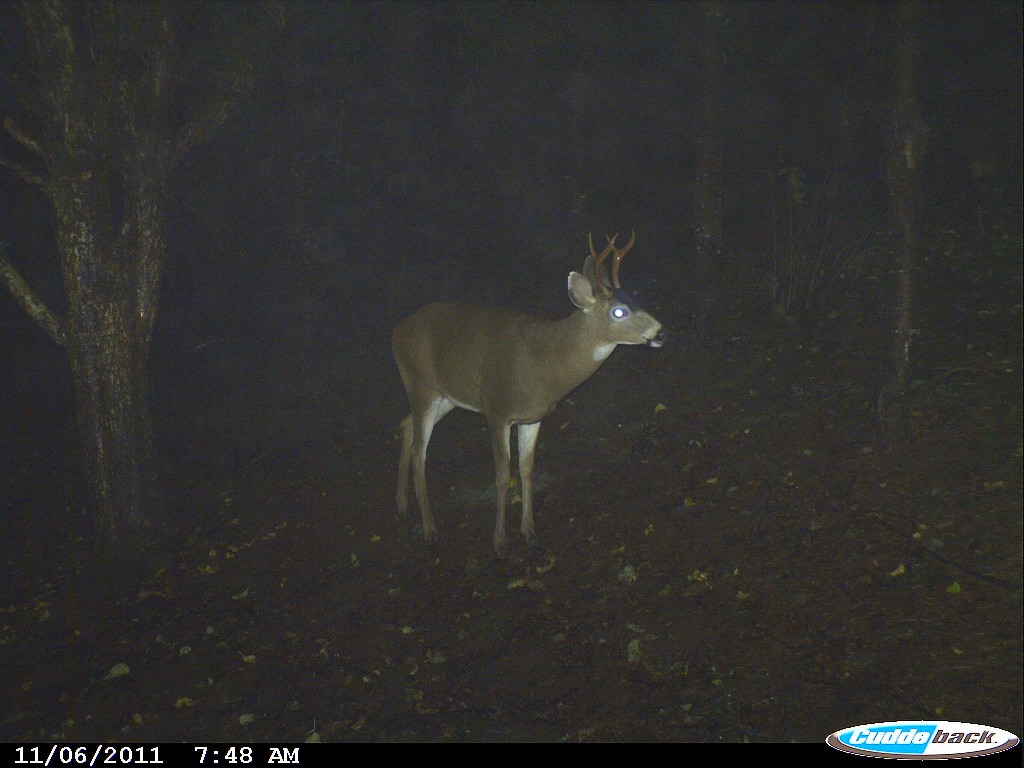 We had this guy doing the same pattern last year. Every time we got a picture of him it was between 7:30 AM-9:00 AM. Of course every time he passed we were not in our treestand. Got to love when mature bucks are traveling during daylight hours!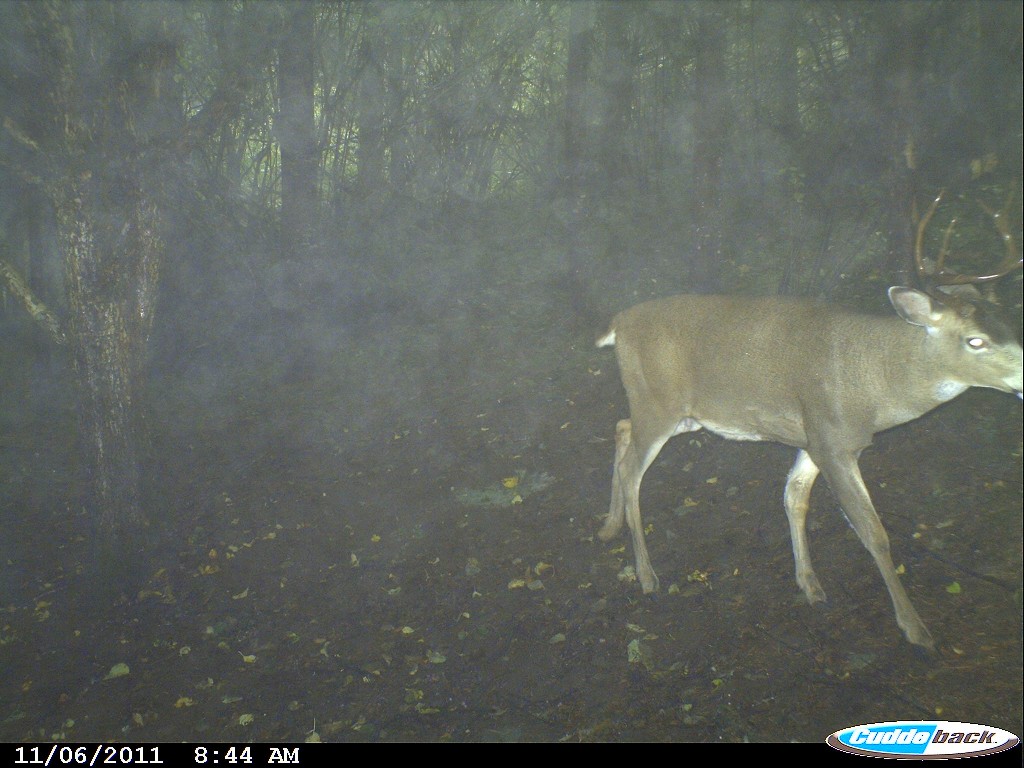 This is our first attempt at trying a rubbing post, nothing has touched it yet… Hopefully we will have more photos to post soon. The weather forecast is looking good to get the deer moving! Season couldn't get here soon enough!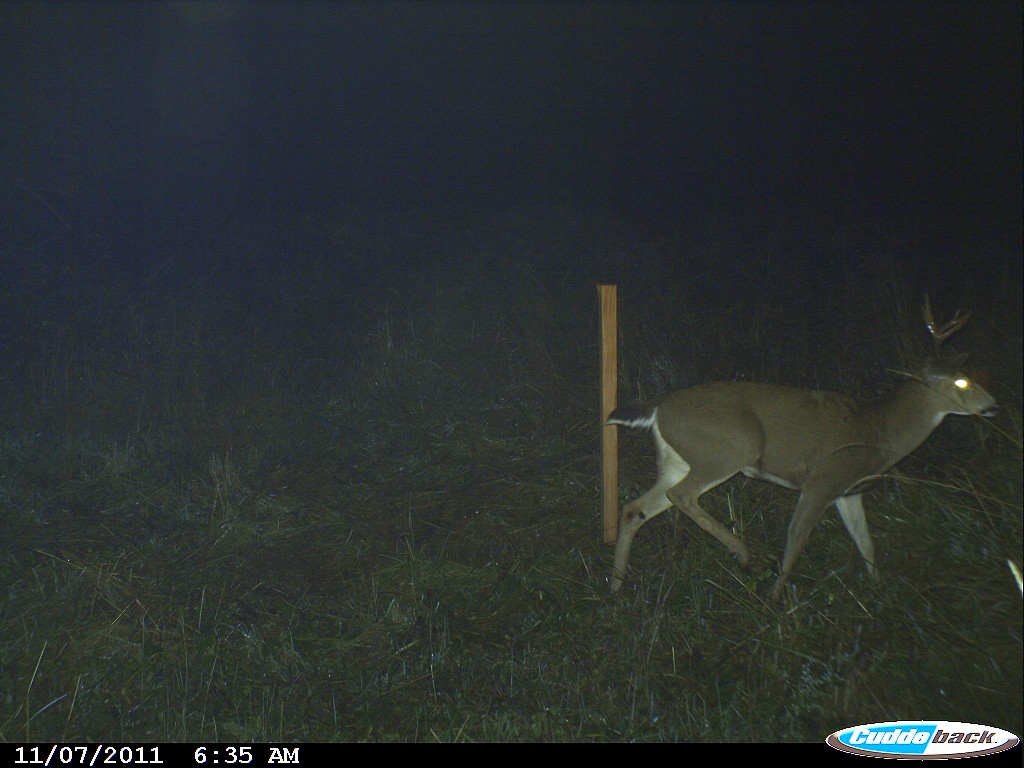 October 27, 2011
Well its the time of year when we retrieve all of our cameras and see where we should have been hunting this elk season. We love to see when the elk show up just days after we were there. We got a lot of really nice bulls on camera this year!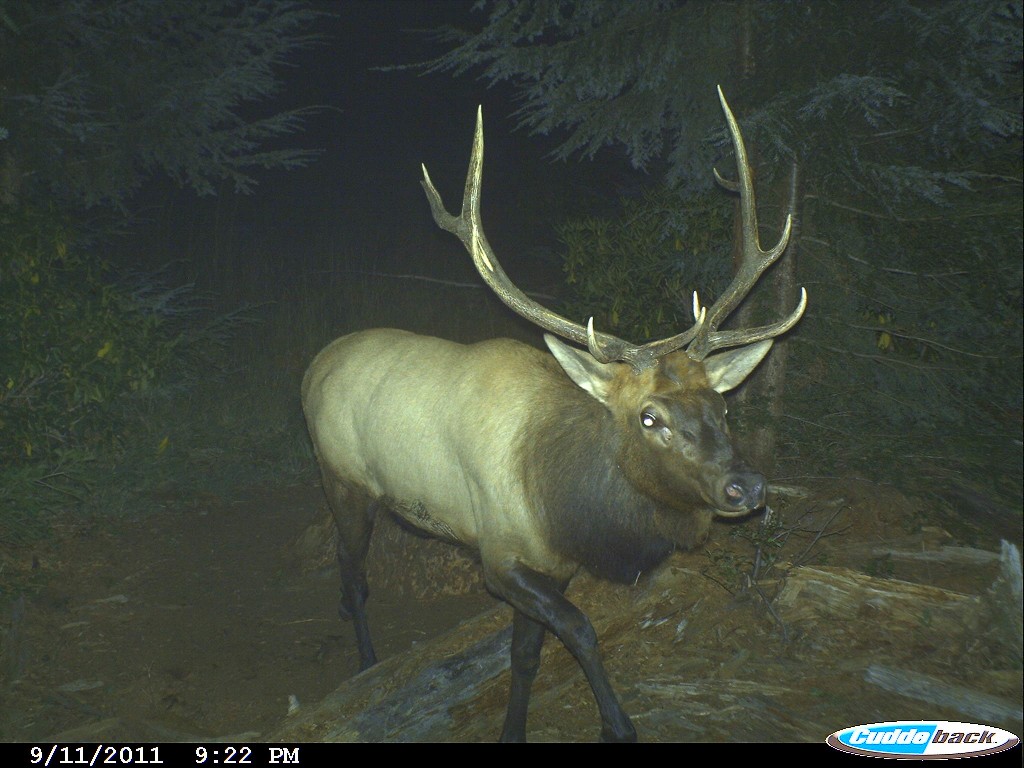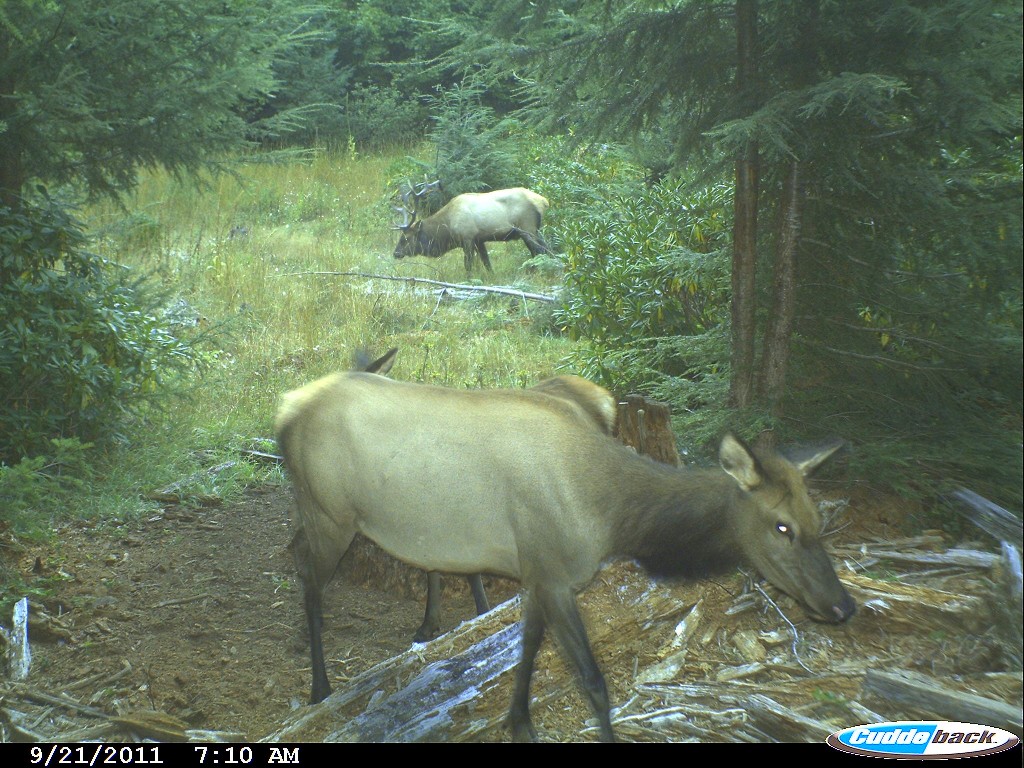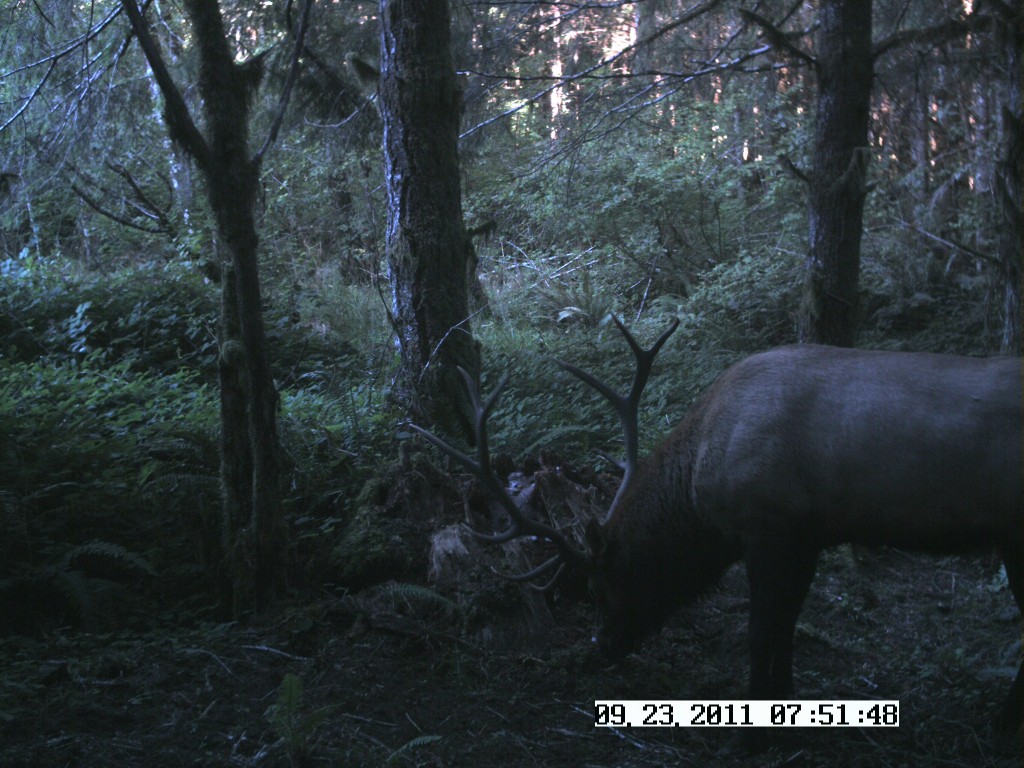 Meet "Sweep". We have been hunting him for 6+ years now and have yet to close the deal on him. This is the first year that we have gotten good trail cam pics of him. He is real elusive around our cameras. We hunted this area the day before the elk moved in!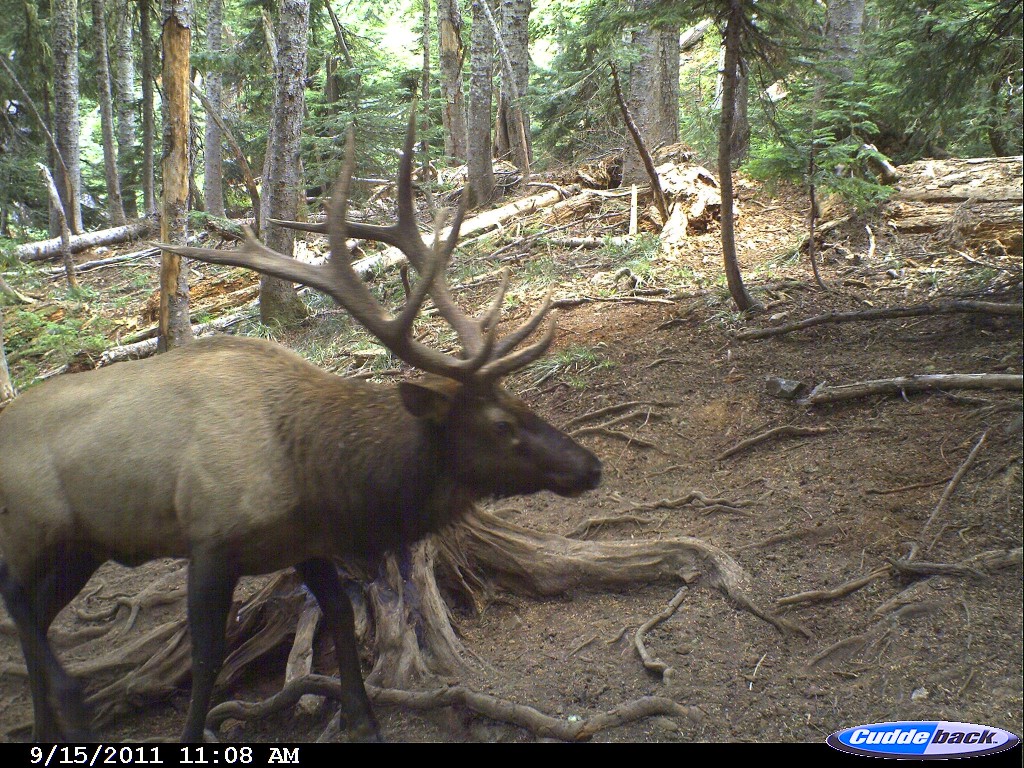 This bull came out of the wood works the day after season. They must have gotten the memo when season started and ended because we didn't get one picture all season!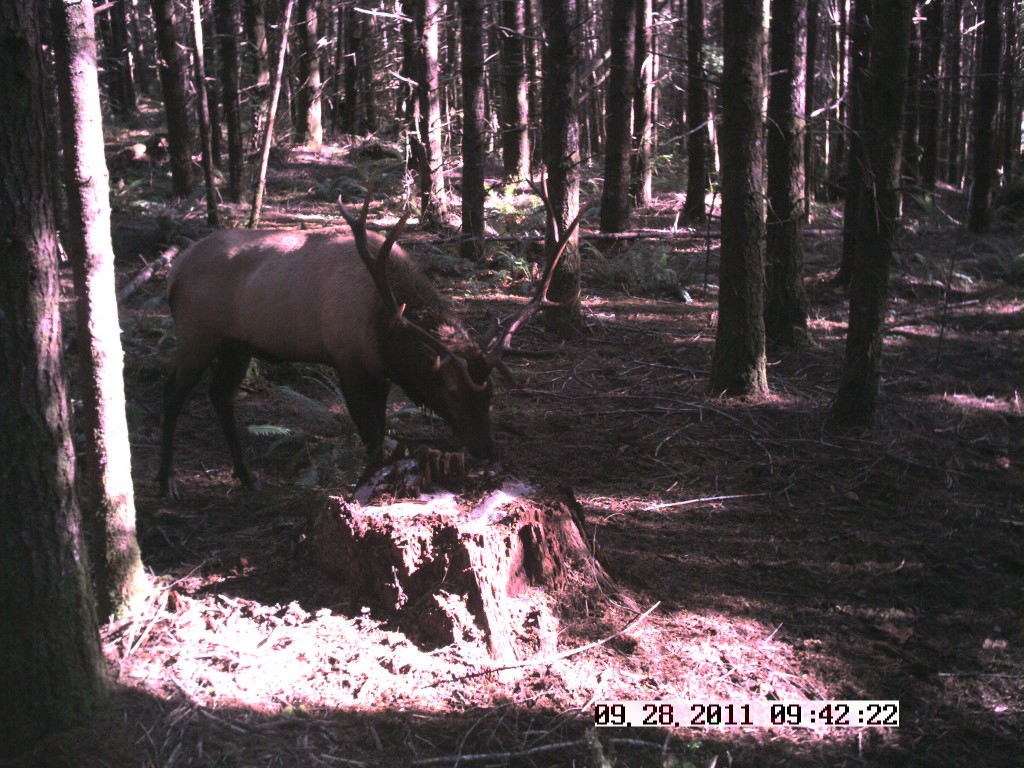 Trying to get a sneak peak at how many pictures before the flash goes off… Gotta love seeing those blue spots on the walk out! We will be launching our Black tail cameras soon and hopefully have some good bucks to share. Stay tuned!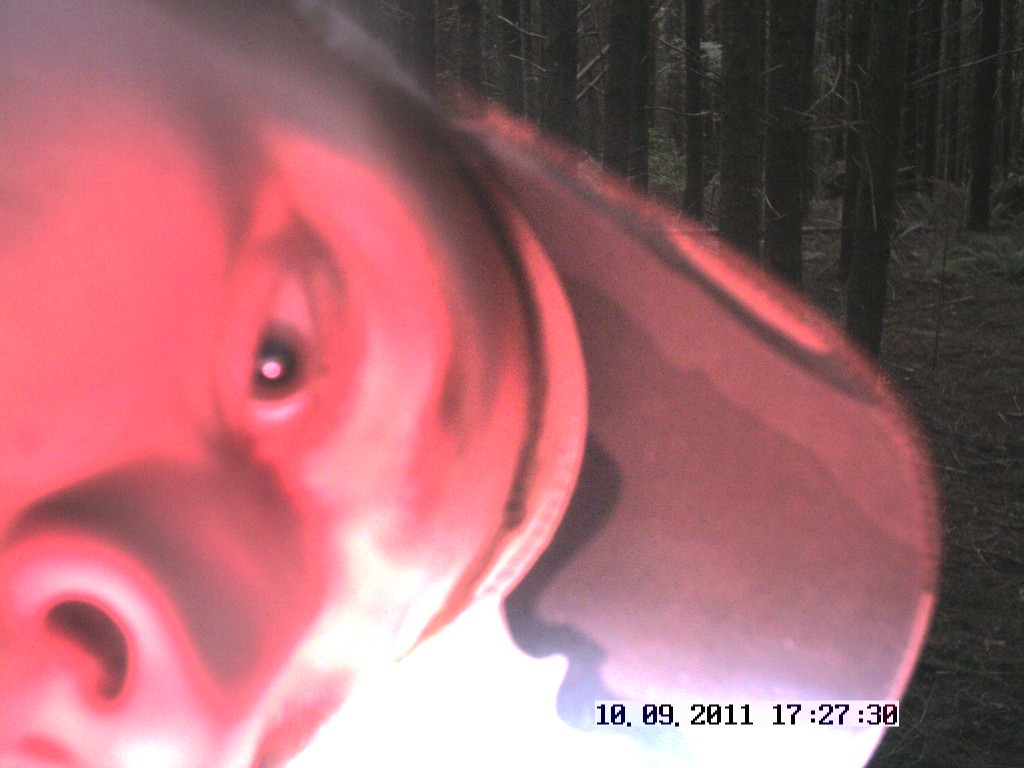 October 21, 2011
ZMA wrapped up the season over east this year as our woods to the west went dormant due to fire danger. We experience this each year, but some years are worse than others. We typically put in for the Chesnimnus archery elk tags for a backup in case there is no walk in allowed in our west side areas. This year was one of those years. After being shut out for a week and no sign of it opening for the 3rd weekend, we loaded up the trailer and headed for the Chezi!
Having been in the unit only a few times before, we had our work cut out for us in locating the elk and learning their patterns. A grueling 9.5 hour drive came to rest in a comfortable campsite where we unloaded the gear and immediately began searching for herds of elk. Not an hour after pulling in we spotted a good herd about a mile down in the bottom of a huge canyon. Zac and I headed straight for the bottom bumping into another herd of 30 on the way. We had a tough time with the wind swirling and could not make anything happen so we proceeded on to the original herd we had spotted. We rounded the corner in the timber at the bottom and spotted a smaller 5 point on the rim rock above. We wondered if the elk we had seen from the top had moved out of the bottom. Just as we were discussing our plan, a bugling frenzy began about 150 yards in front of us. We crawled to within 90 yards of 65 head of elk; 15 of them being bulls. The wind was descent, but soon began to change. We were in a bad spot but could not get around the back side of these elk as the canyon walls were full of rock bluffs. The typical scenario played out, one bull started acting different, barked and bolted up the opposite side of the draw, with all the other elk following close behind. We put it into high gear to stay on them and push for a shot, but could not get closer than 90 yards. The elk continued down the canyon so we decided to head out with only an hour of light remaining. As it turned out, we were way further in than we expected. It took Zac and I almost 2 hours of hard hiking to get out of the canyon to the pickup. We were beat and humbled by the type of country we were in, inspiring us to work even harder to fill our tags.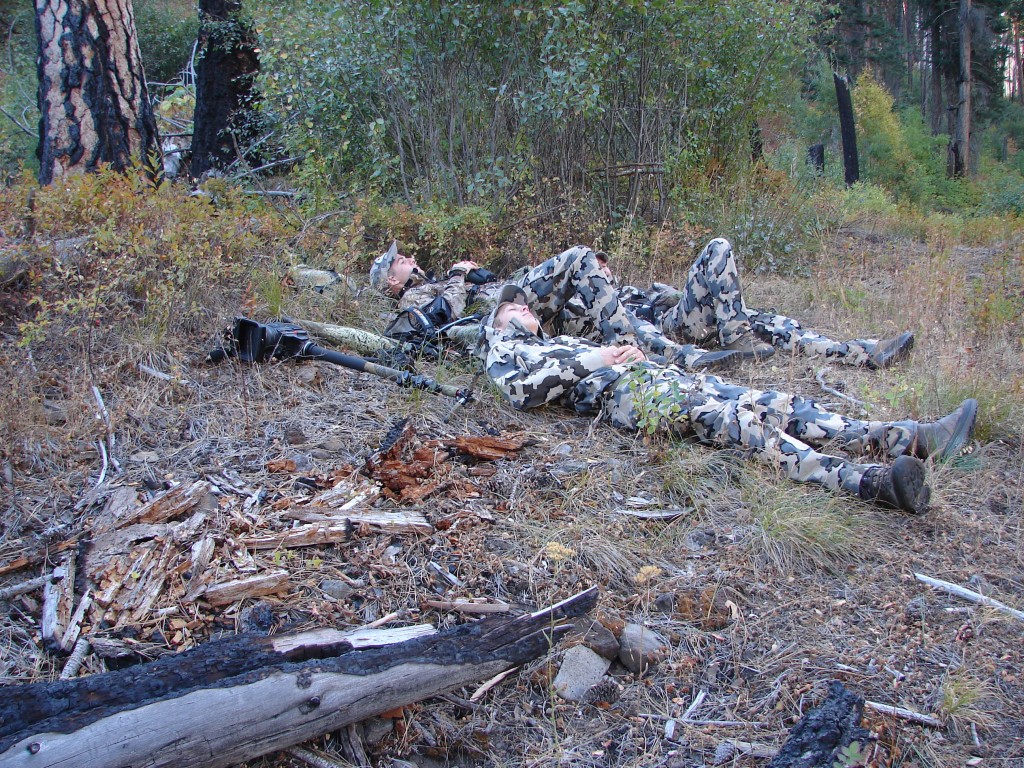 After a good night's rest, we decided to spend some time glassing and planning a stock instead of going after random bunches of elk. For the next few days we did just that, and struggled getting in close to some nice bulls we were after. A combination of open terrain and unpredictable winds slowly diminished our likings of this unit. We had no problem locating elk, but their locations hindered our ability to get in on them! It came down to making the decision to get after it in the bottom of the canyon Zac and I were in the first day we arrived. "This is why we came over here boys. Let's head straight for the bottom and not come out until we kill something!" That's exactly what we did. All three of us loaded up the packs with food and water, charged the video camera, shot the bows to double check, and headed for the trail head.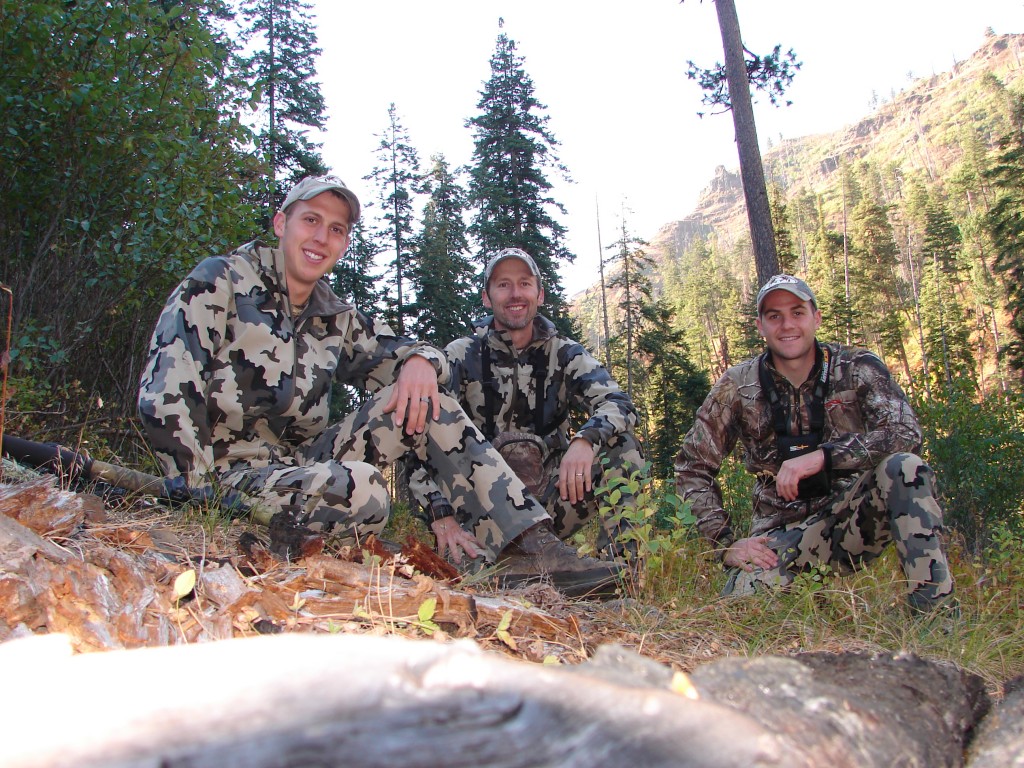 It was September 20th and a bitter cold morning. We began descending into the canyon just at light and made it to the bottom in just over an hour. We knew the elk were way further down than before, so we made quick time heading in. About 2 hours from the pickup we began to slow up our pace in search of any movement or sign of elk in the draws. We began climbing out of the bottom to get an advantage point to glass, Zac in front, then myself and Mike in the back. I spotted a small bull bedded just below us at 120 yards. "Zac!" "Zac!" "Hold up there is a bull!" He had no idea we were there so we got out of sight, made a plan and went in for the kill. Zac and I headed down the hill as Mike stayed above to keep an eye on him. We closed the distance to 50 yards and did not have a shot. We could not get any closer without being seen, so we waited. He was bedded against a clump of brush along a creek and needed to move a good 10 feet in order to get an arrow in him. The bull finally stood up, and I drew my bow. It looked like he was going to turn but instead he stood behind the brush with his rear end facing us. After holding for a minute or so and no sight of him moving, I let down. Mike bugled and the bull stepped out. Zac zooms in with the camera as I re-draw my bow. I shot, and saw my arrow drop low! The bull busted up the canyon side and stopped. I knew it was low but did not know if he was hit. It was soon apparent that the arrow had hit his leg on the opposite side. The bull walked around the ridge so Zac and I busted up the hill and immediately got on him at 80 yards. I drew my bow and stepped out. A shot at this distance takes serious concentration. The months of practice took over as I held my pin steady behind the shoulder. Feeling comfortable, I released the arrow. The bull took a step and I hit him mid body, but too far back. I was sick to my stomach as I watched him round another ridge. We stayed on him running ridge to ridge when we came around the corner to see him bedded down on the hillside. I wanted so badly to get another arrow in him, but had no shot. We sat down and gave him time, hoping the last arrow got the back of the lungs or liver. The rest of the herd was about 400 yards below us, so Zac headed to the bottom to meet Mike and go after the herd bull. The bull I hit got his feet under him after a good 20 minutes, and began walking directly away from me. I stayed close behind and followed him around multiple ridges. He would never stop long enough to present a shot, and I watched him head into a thicket a hundred yards in front of me. I started kicking myself for the 80 yard shot. I decided to watch Zac and Mike go after the herd bull and let this bull bed up for a while. They tried to close the distance on the elk, but too many eye balls and noses was the story of their hunt. The bulls were bugling like crazy, wallowing in the creek, chasing cows, and then eventually winded them. Again, the bottom of the canyon blew up in elk and they bolted further down the draw.  Zac and Mike started up the hill across from me, where my bull had gone into. They moved slowly, glassing ever so often when Zac spotted my bull bedded 60 yards below him. He got on the radio and told me to head straight down the hill, and get ready to shoot. The bull stood up and moved towards me. He came up on the ridge I was on, moving very slow, and walked down below me presenting a broadside shot at 25 yards! I made this one count, sending it straight through the boiler room. The bull didn't make it 15 yards and piled up. It was unfortunate I could not end this hunt earlier, but we stayed after it and found ourselves at the end of the trail. The blood trail that is!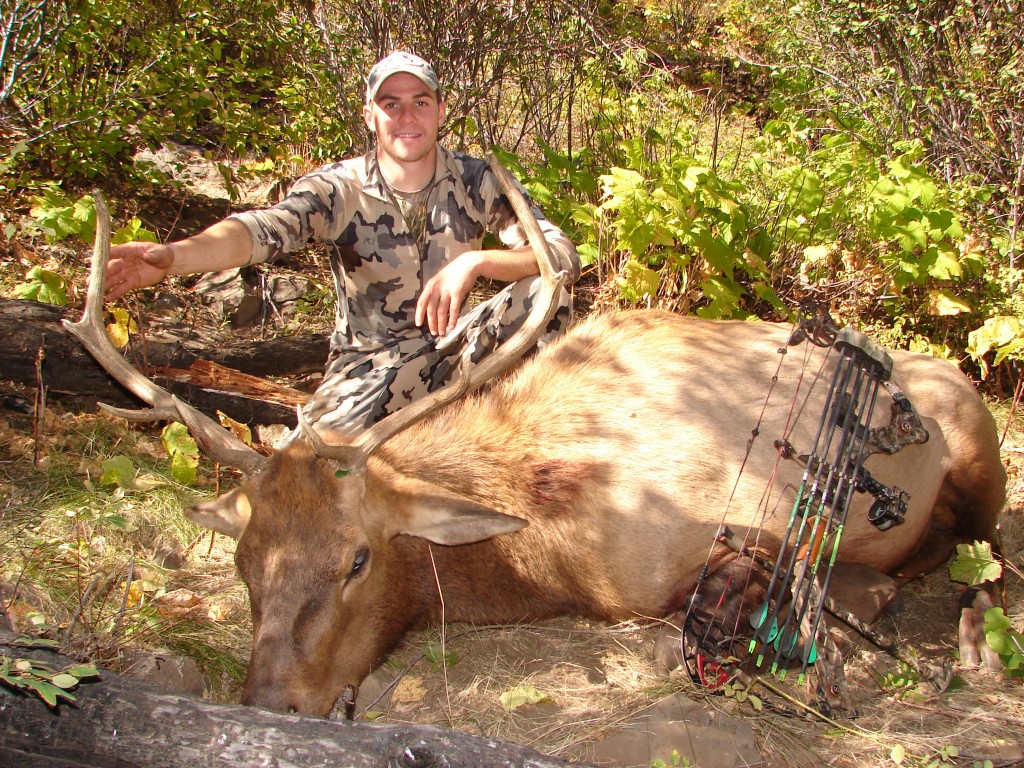 We made quick work of dressing the animal, got the meat hung up and loaded our packs with the backstraps, horns, bows, and camera. It took us just over 2 hours of hardcore walking to get to the pickup. At this point we did not have enough time or energy to recover the remaining meat. We cooked a good meal and dove into bed for a good night's rest. First thing the next morning we found ourselves back in the same canyon with only our Cabelas pack frames, boning out the shoulders and hams. We had all the meat out by noon that day and were thankful our trips to the bottom of this canyon were over! All in all, it was a great trip. We saw lots of animals and came away with a bull on film for the next DVD.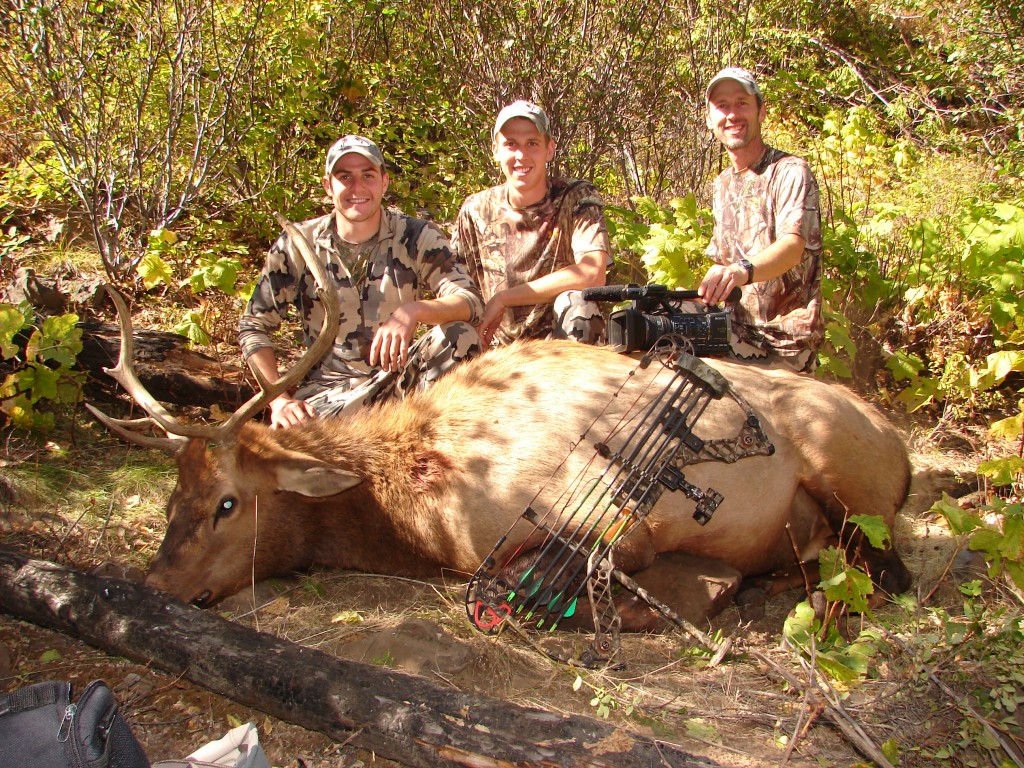 September 4, 2011
Saturday morning my cousin Zac and I headed way back in to try and find some elk that had not been pressured by other hunters. We got to the top a bit later than we would have liked due to a long hike, and began hunting around a large loop we had previously mapped out. A strong east wind was blowing (15 MPH) and began to diminish our hopes of getting into the elk. After easing through multiple clearcuts in the early morning, we saw nothing but day old tracks. It was apparent the elk had relocated off the top for the duration of the wind storm. We dropped over the other side of the mountain that had a bit more shelter from the wind and hunted hard until noon where we stopped, ate some food and rested for a bit. At this point we were discouraged, tired, frustrated, hot; the list goes on. We pulled out the maps and planned a hunt that would circle us back around to our location at first light, putting us back on the road to the pickup. Around 2 PM I saw something coming down the road ahead of us so we ducked into the ditch and got set up. It was a coyote… Sweet we actually saw an animal with four legs! We filmed the dog walking down the road cautiously as it crept into bow range. I slowly drew my bow and the coyote stopped! He raised his head and stared directly into the camera. Unable to range him, I put my 30 yard pin high in his chest and released the razor sharp, 100 grain trufire broadhead. The arrow passed just over his head; it was a clean miss! We discussed our situation and thought to ourselves, "a 15 mile loop for a shot at a coyote. Let's go home!"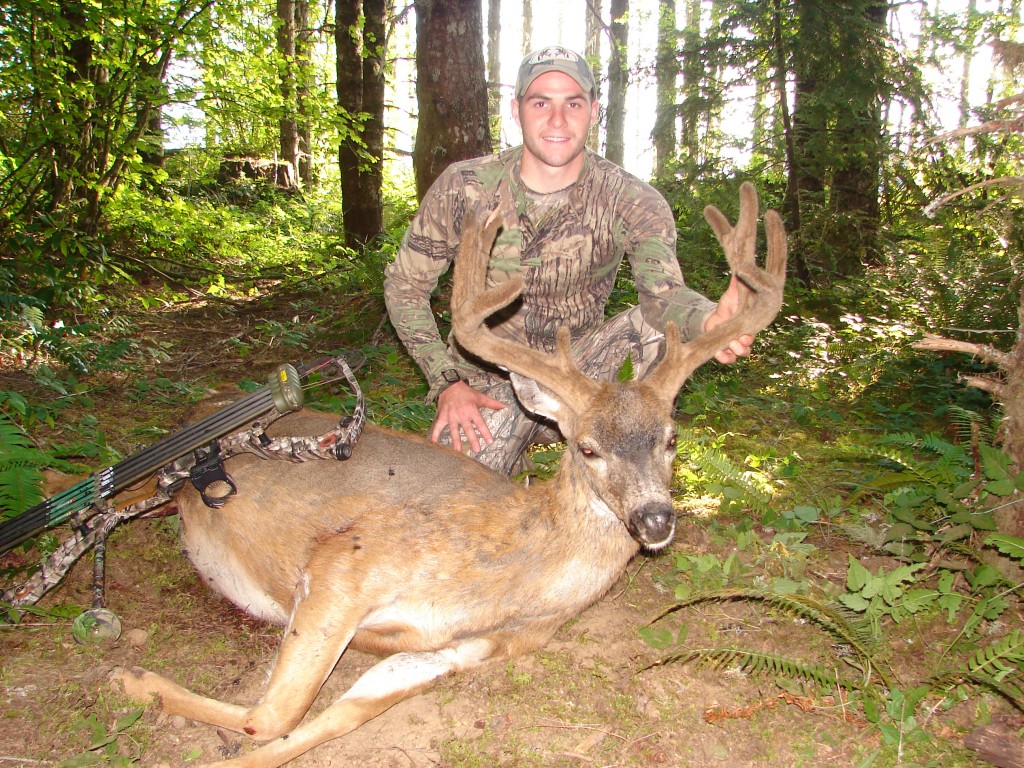 We loaded up our packs and tucked the camera away so we could bomb out in the heat of the day, not wasting another minute in such a desolate area. We had gone 2.5 miles down the road when we came around a corner and I spotted a nice Cascade blacktail buck walking in the road directly away from us. The temperature was nearing 90 degrees, and this buck was walking directly down a road through a clearcut just before 3:00 O'clock in the afternoon. There was a doe he was with that immediately spooked, which we figured he would soon follow. He looked at the doe, looked back towards us and continued on his route. We were amazed he did not spook, so we dropped our packs, assembled the camera, knocked an arrow and started down the road towards him.  He angled his way up into the clearcut off the road, and gave us the opportunity to progress in cutting him off. We spotted him heading over a ridge about 70 yards in front of us, so we hunkered down and ran clear around to the opposite side of the unit. He was out of sight at this point and the unit was long and flat so our chances of getting close to him were pretty slim, it seemed. We decided to ease up through the bottom of the unit and glass for antlers coming through the chest deep fire weed. I caught movement to my left and threw up my binoculars to see the heavy horned 4X4 walking perpendicular to us. Zac set up the camera; I ranged where he was going to step out and drew my bow. The buck walked into my opening and I made a high pitch noise with my mouth to stop him. I placed my 30 yard pin at the crease of his shoulder and released. Great shot! The buck lunges forward and sprints up through the unit out of sight. We gave him about 30 minutes and found my arrow, only to see the dreadful sign of guts on the entire shaft. "How could this be?" We replayed the footage on the camera and the shot looked good, but when he stopped his shoulder was as far back as it could go. I nicked the shoulder blade and the arrow deflected towards the back of the rib cage. I knew the buck was fatally wounded but we needed to give him time. We gave him another hour, and decided if he was not dead in the unit we would come back in tomorrow at first light and pick up the trail. The last thing I wanted to do was to jump him out of his bed and have to hoof track him. We did just that; the buck was not lying in the unit so we backed out and showed up early the next morning bringing the third member of our team Mike Cochran.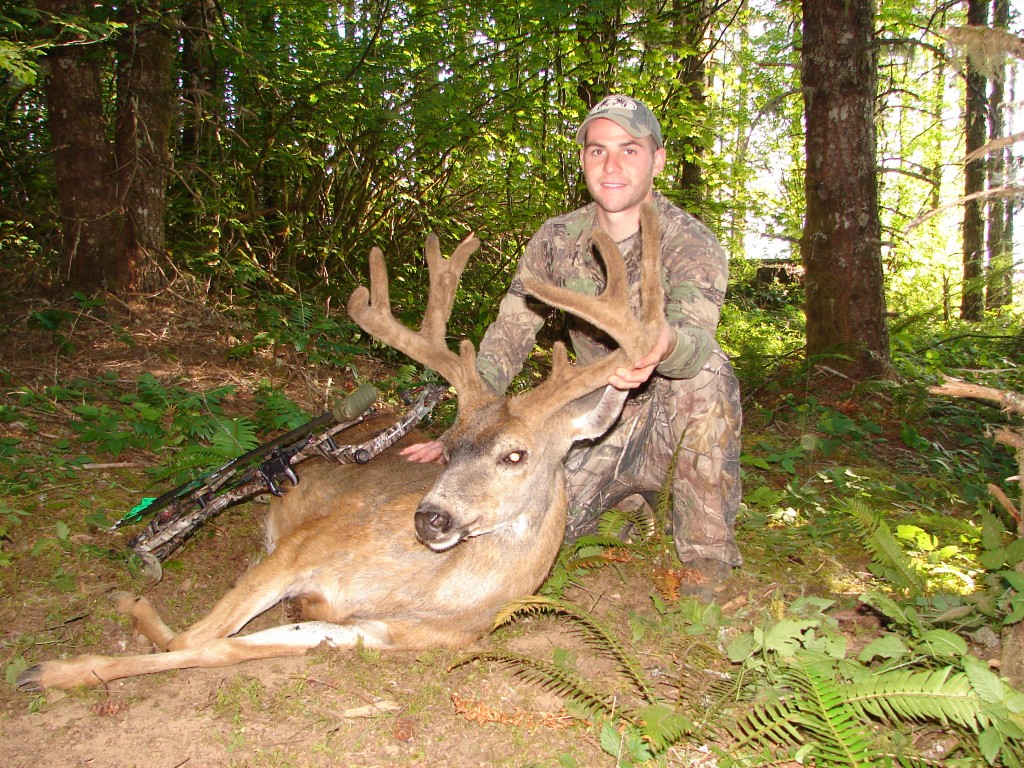 We instantly got on the last blood we had marked and began tracking. The tracking was tough and he was not bleeding much at all. Crawling on our hands and knees, we picked up some blood where he had cut back to the East from where he was shot and began following an increasing amount of blood splatters (Thankfully). Through the unit, into the timber nearly 300 yards from where he was hit there he was. Piled up in his bed! It worked, we gave him time to bed down and expire. The teamwork of Zac and I stalking the buck, and the veteran tracking skills of Mike enabled us to find this buck completing a successful hunting trip. This was a great hunt shared with great hunting partners and an amazing blacktail buck! Thanks to all!!!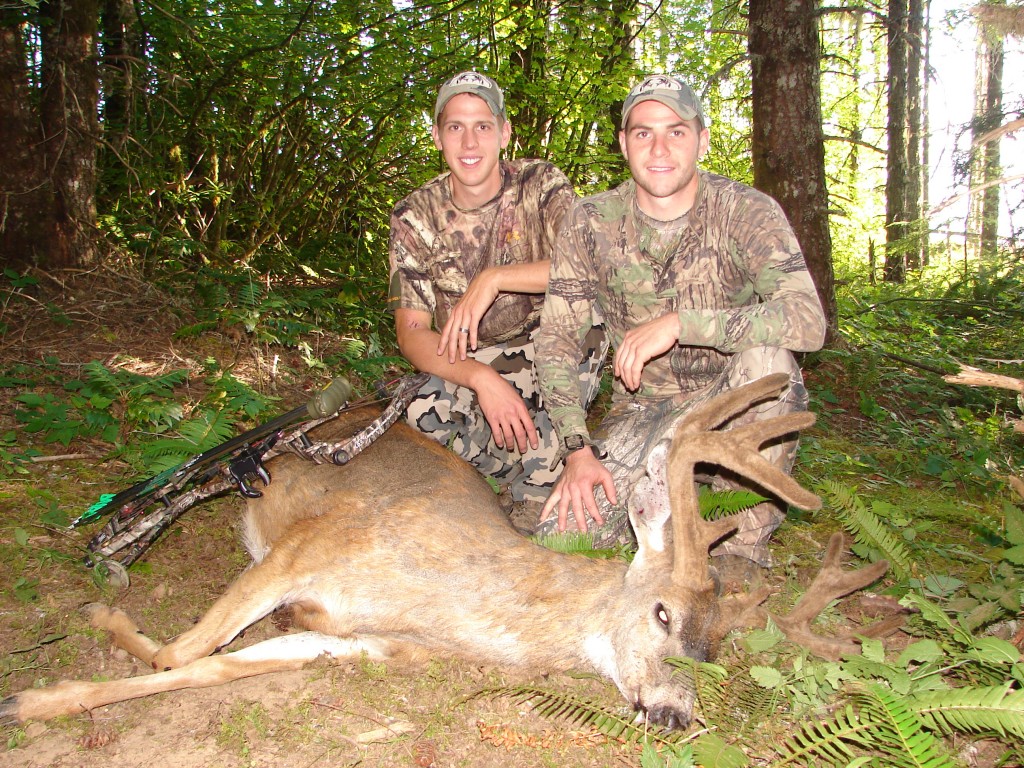 August 20, 2011
With season just a week away we stayed away from some of our hunting locations to assure we would not spook any animals away. We did sneak into one spot to check a camera that had this monster black tail buck! We would love to run across this guy next weekend!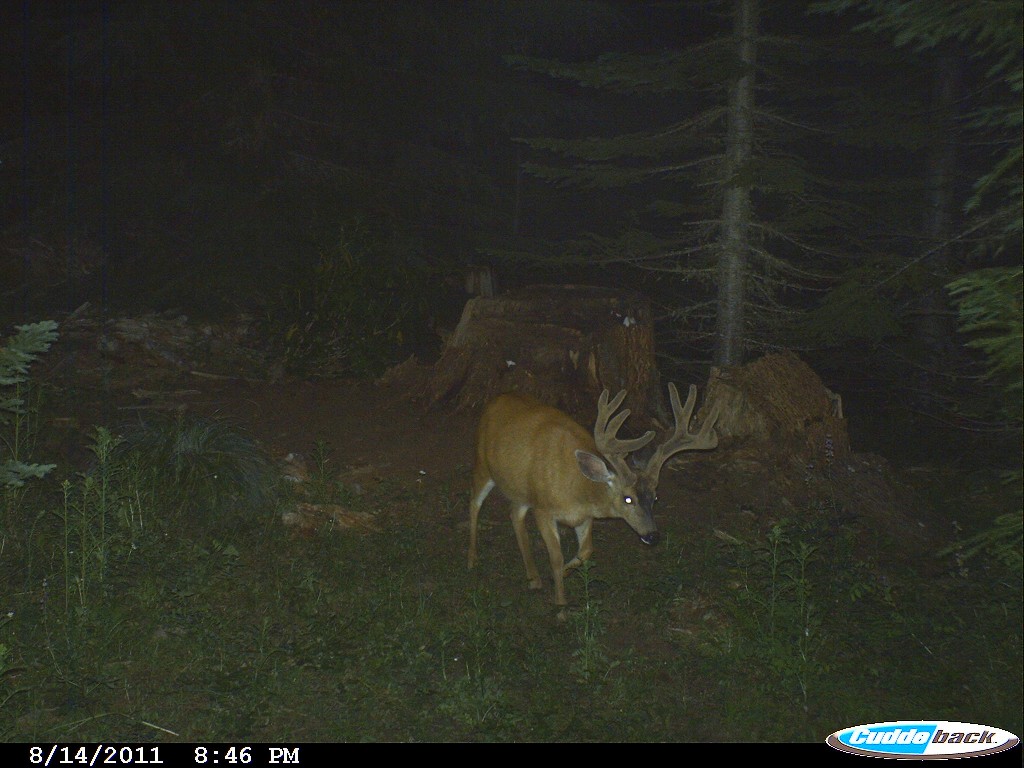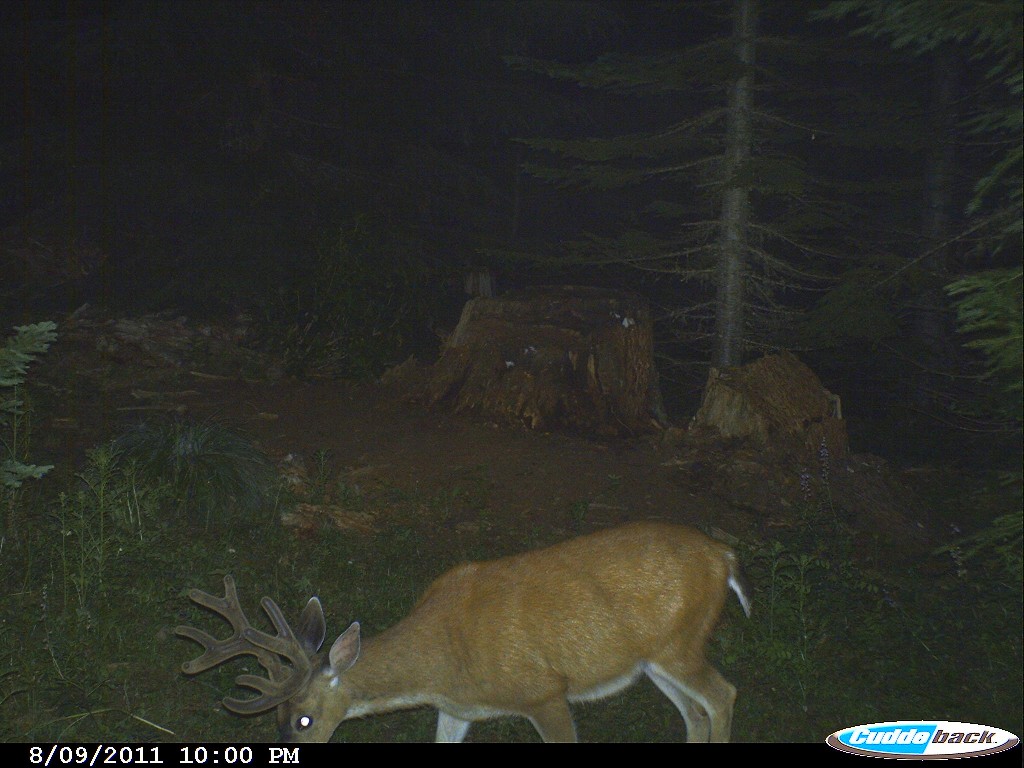 This is a cool picture of a bull that still has velvet hanging. We are very happy to see some hard horned bulls and more than ready to start chasing them! We hope that everybody has a safe and enjoyable 2011 archery season. Good luck to all!!!!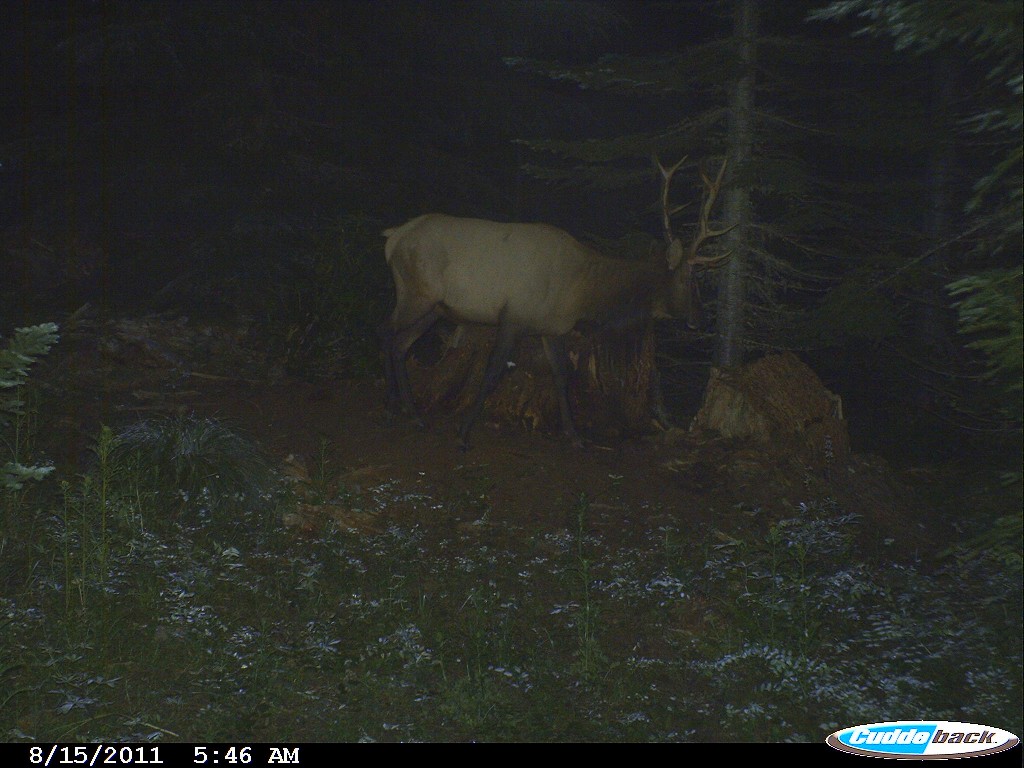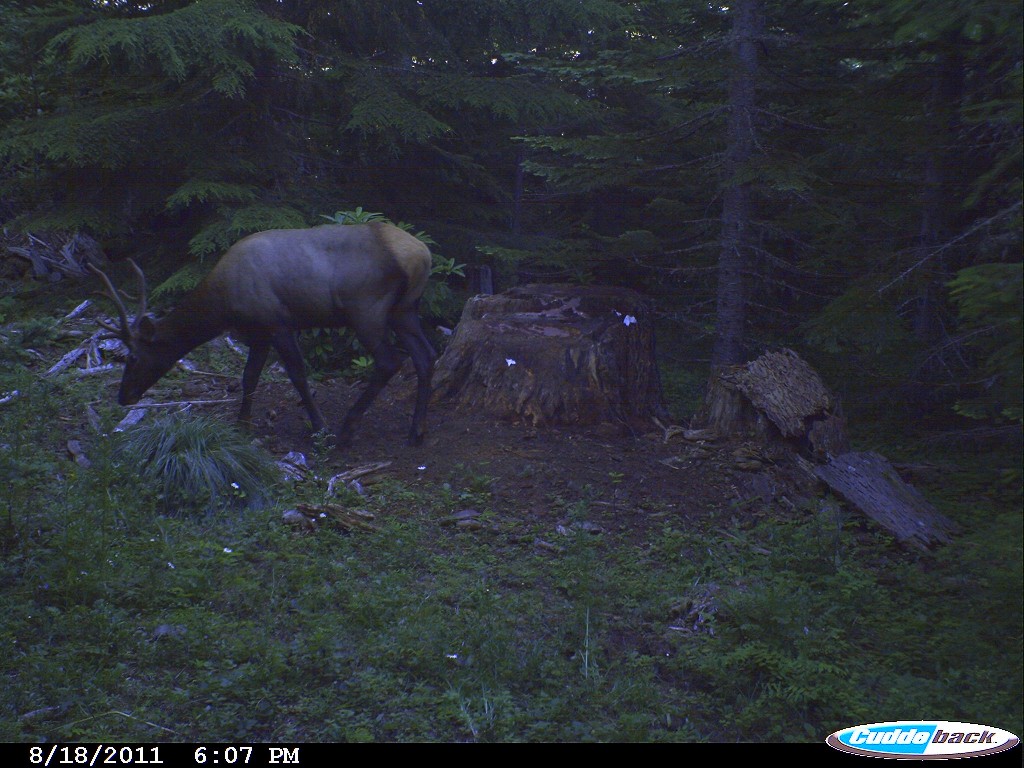 August 13, 2011
It's that time of year everybody! The aromas of crisp mornings and heavy dews are filling the canyons here in Western Oregon. Archery season is just over a week away! This winter and spring flew by and we are ready to start chasing bulls. The recent camera checks show that the rag horns have found their way into the herds!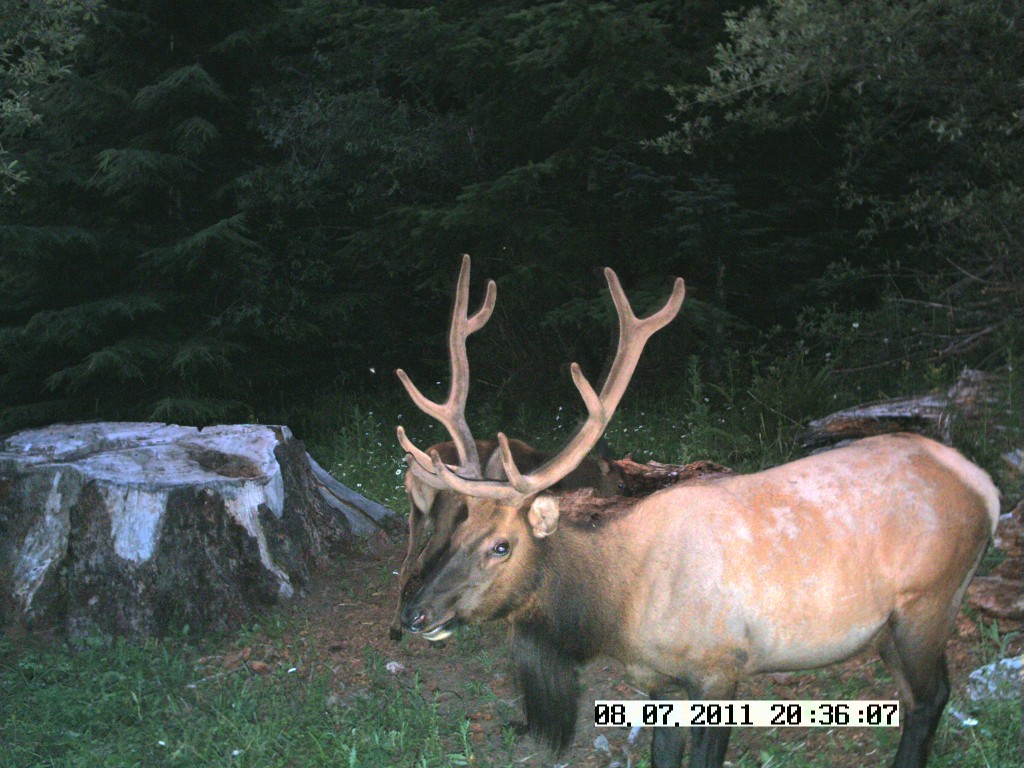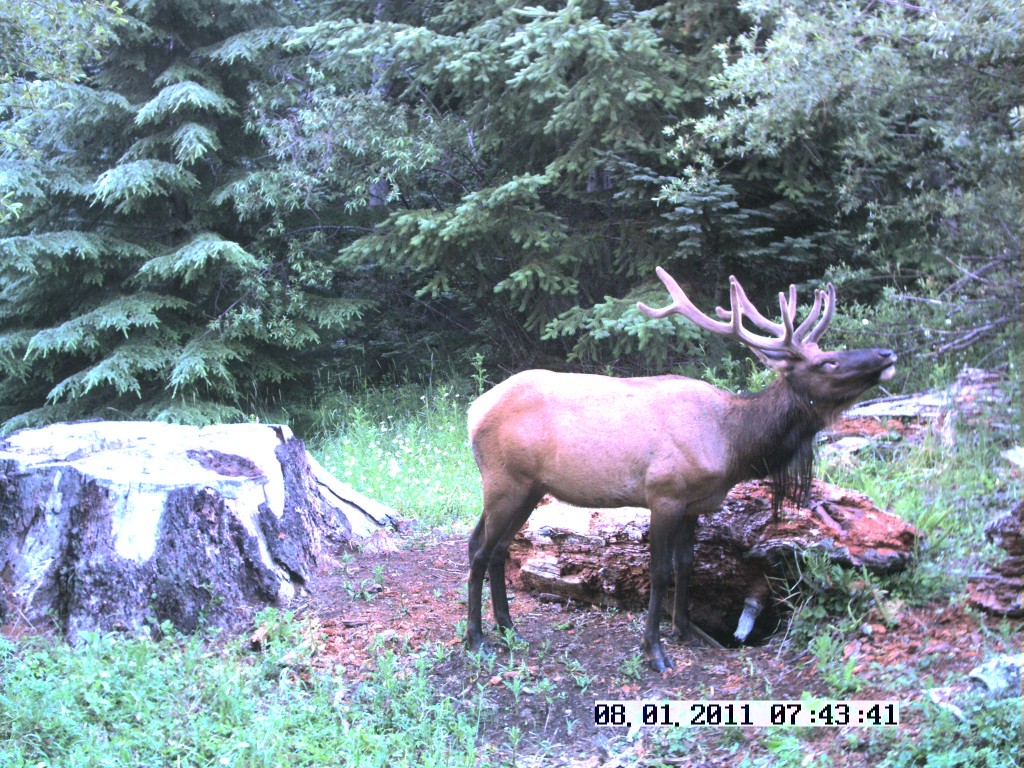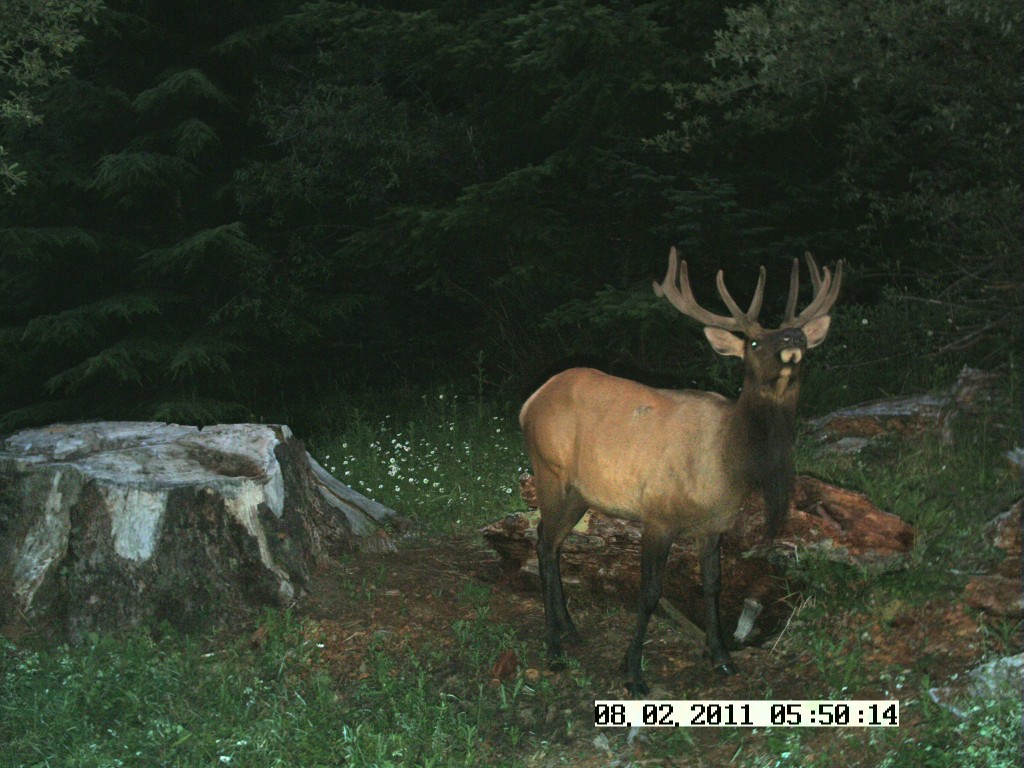 Some of the activity that is going seems a bit odd considering this bull is still in full velvet. Typically when these bulls get restless they begin rubbing …. I'm sure the velvet is rubbed off by now as the dates in the pictures were over a week ago. Looks like he will be hot opening weekend according to his behavior; might have to try and stick an arrow in him on film!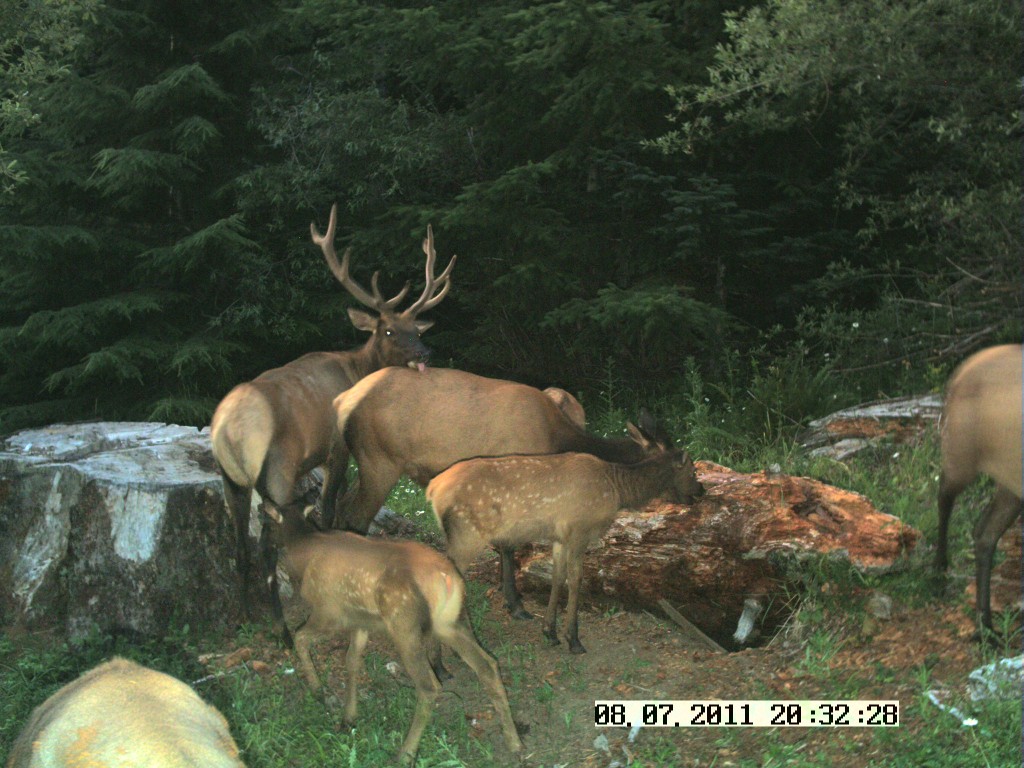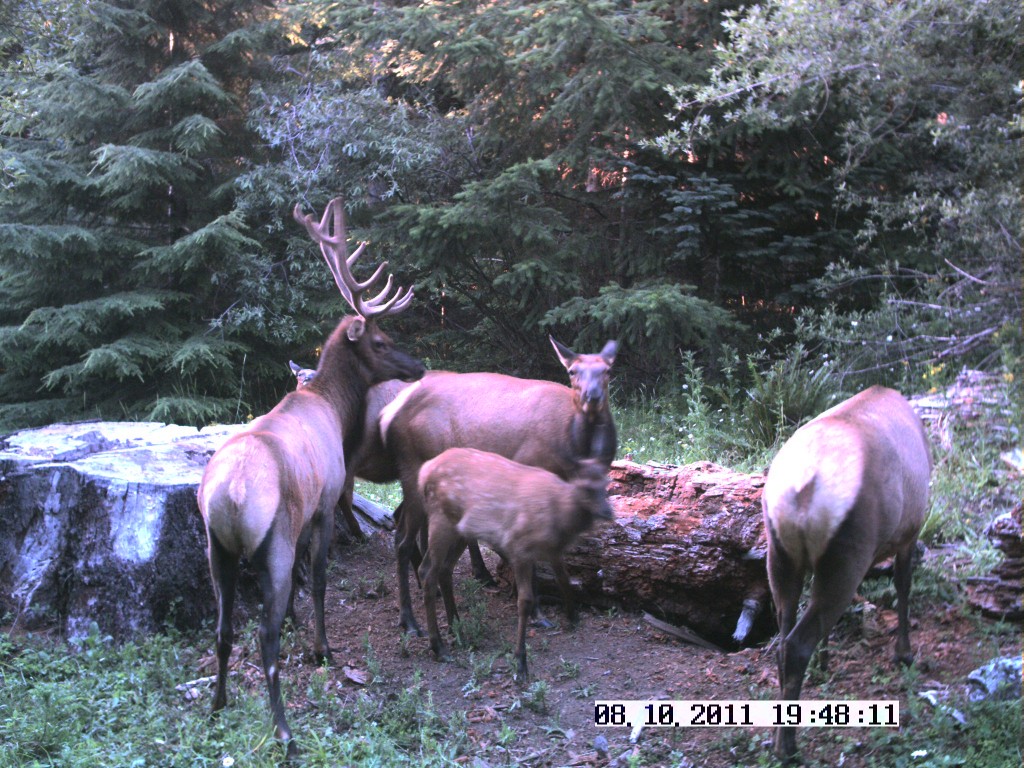 We will be posing pictures of our weekly hunts and what we get into here in about a week… Stay tuned!
August 6, 2011
Its getting down to the wire folks! We have been tightening up our groups of arrows and screwing on the broadheads for the final touches before this month blows by! We are beginning to observe the inventory of elk around the trail cameras much more seriously, trying to decide which location offers us the best odds of getting into a bull opening weekend. A couple recent checks proved that some of the spots are holding elk quite well!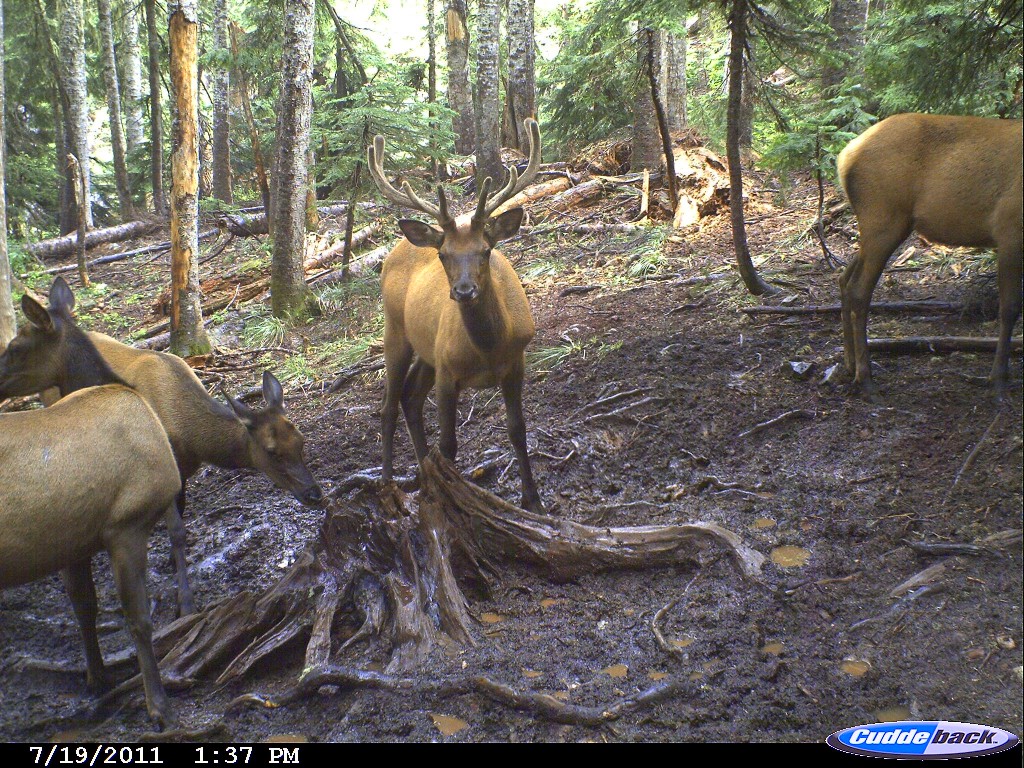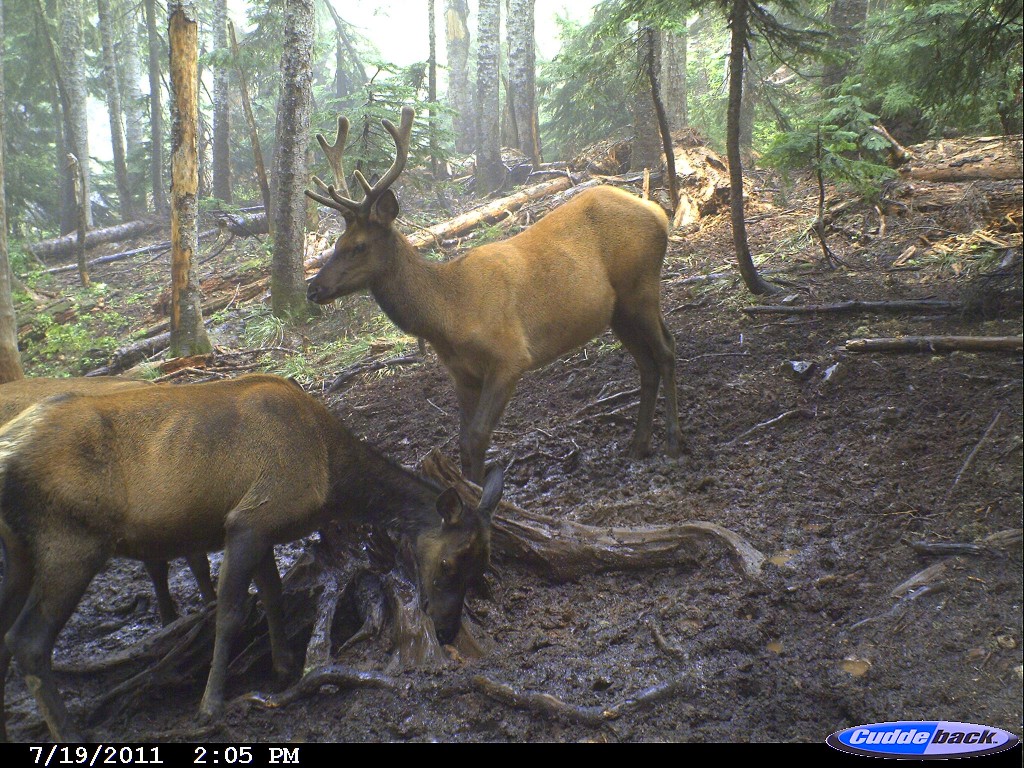 The bulls are becoming more and more restless with each minute of August creeping by. The bachelor groups have started to dwindle as single bulls are now showing up on camera!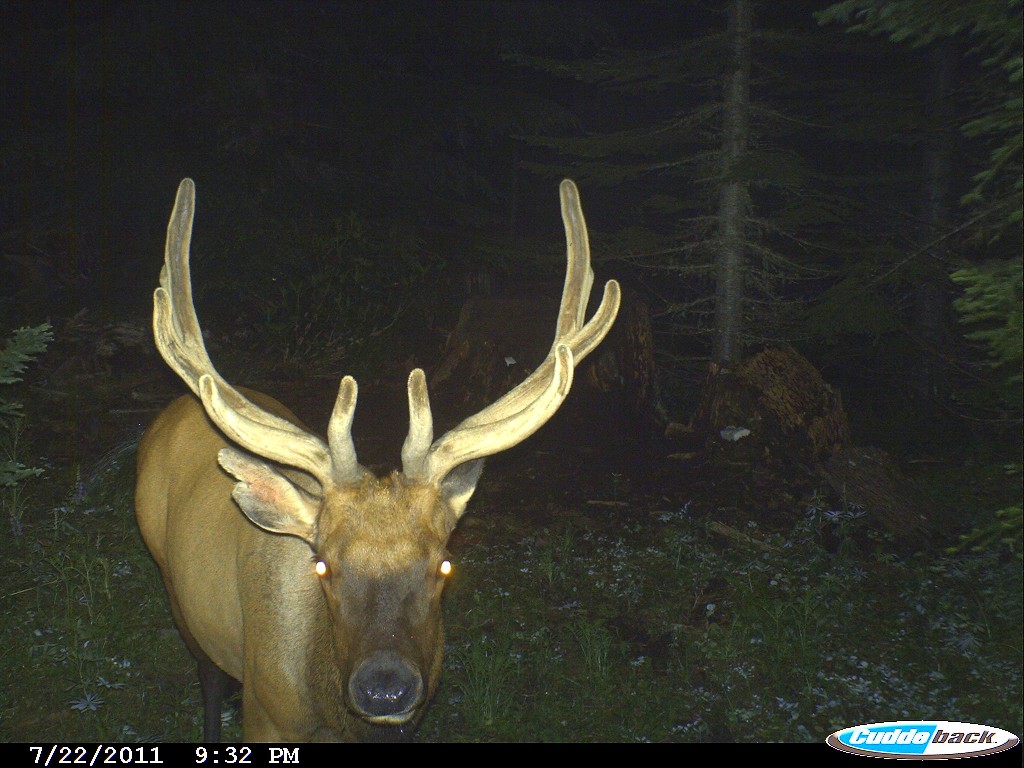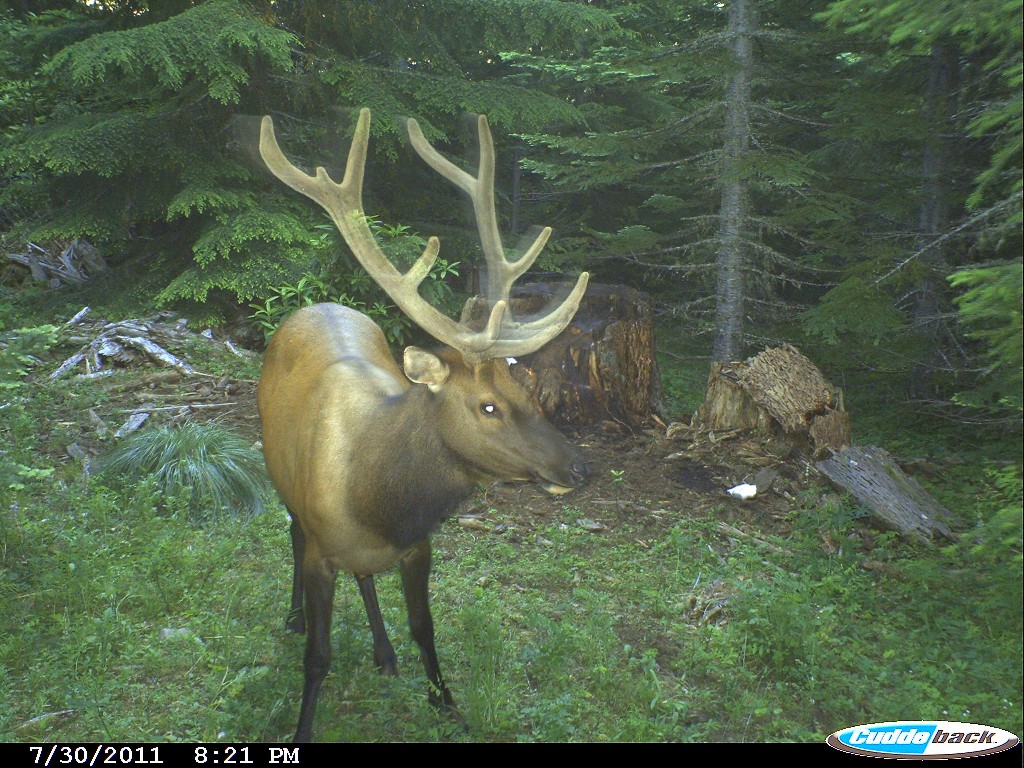 The bucks have turned it on as well. Lots of growth in the past couple weeks! Looks like a shooter…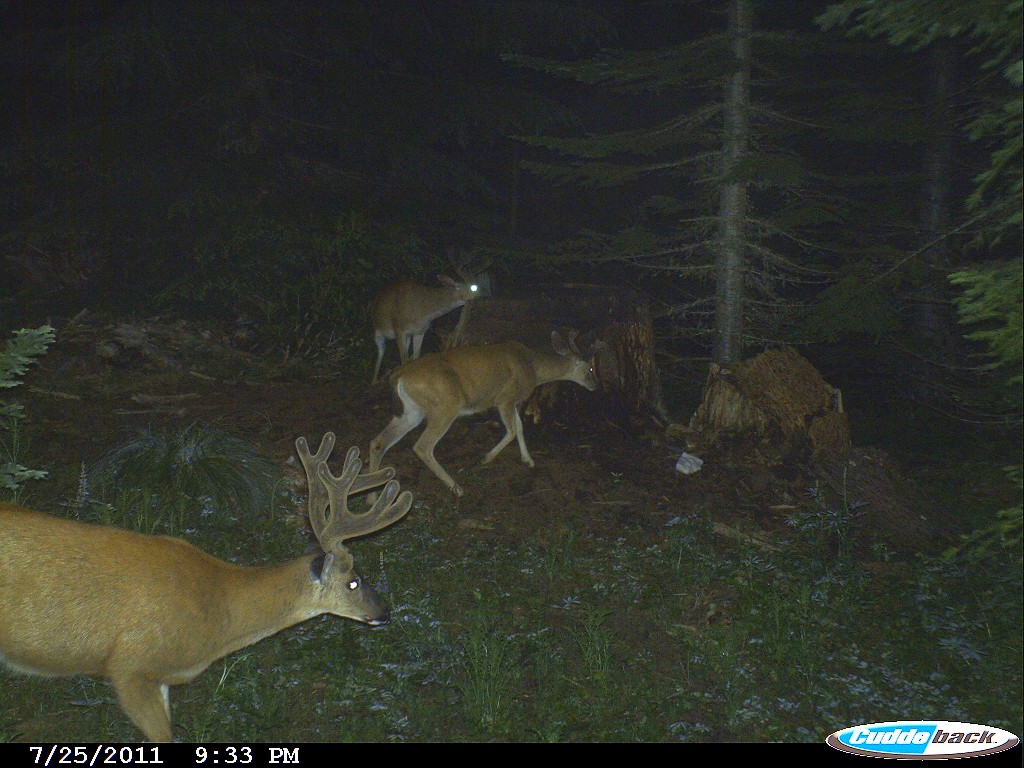 We hope to capture some velvet hanging from antlers in the next couple weeks as we will be making a final camera check before opening weekend!
July 30, 2011
The bulls are back in town! Early this week Mike made it into one of our more active cameras this season and pulled the card only to find a few good bulls have been hitting the salt pretty steady.  The 7X7 crowner was a pleasant surprise; he will be one that we keep an eye on! With season only 3 weeks away, the velvet should be coming off soon and these bulls will start to get a little jealous of each other.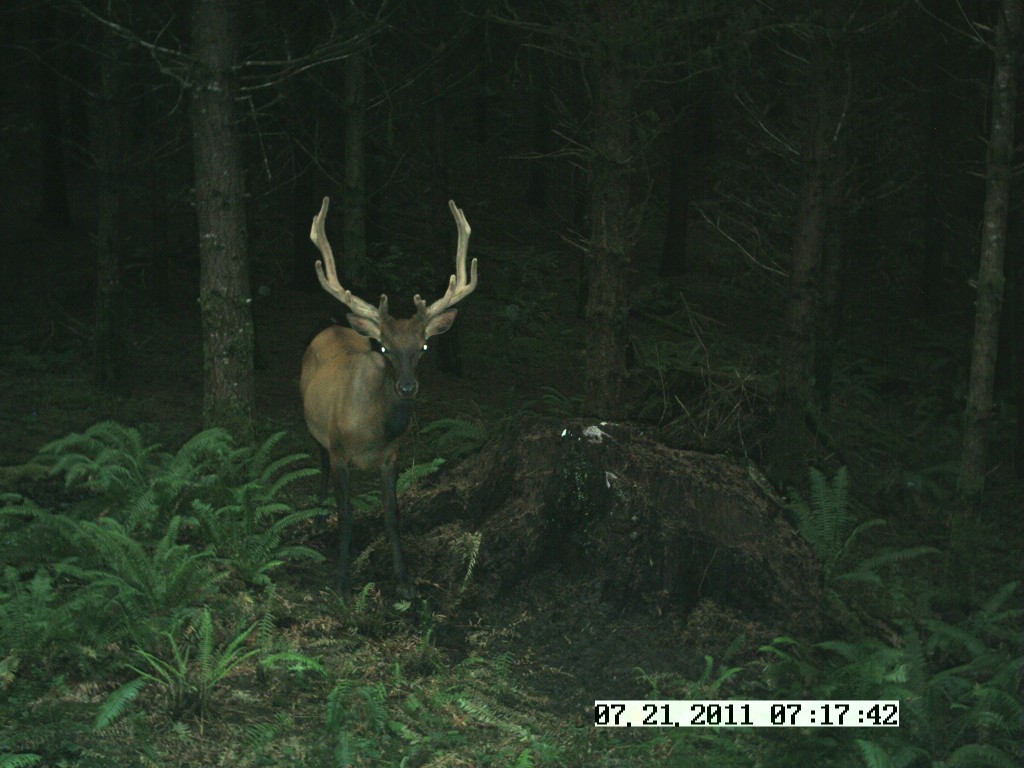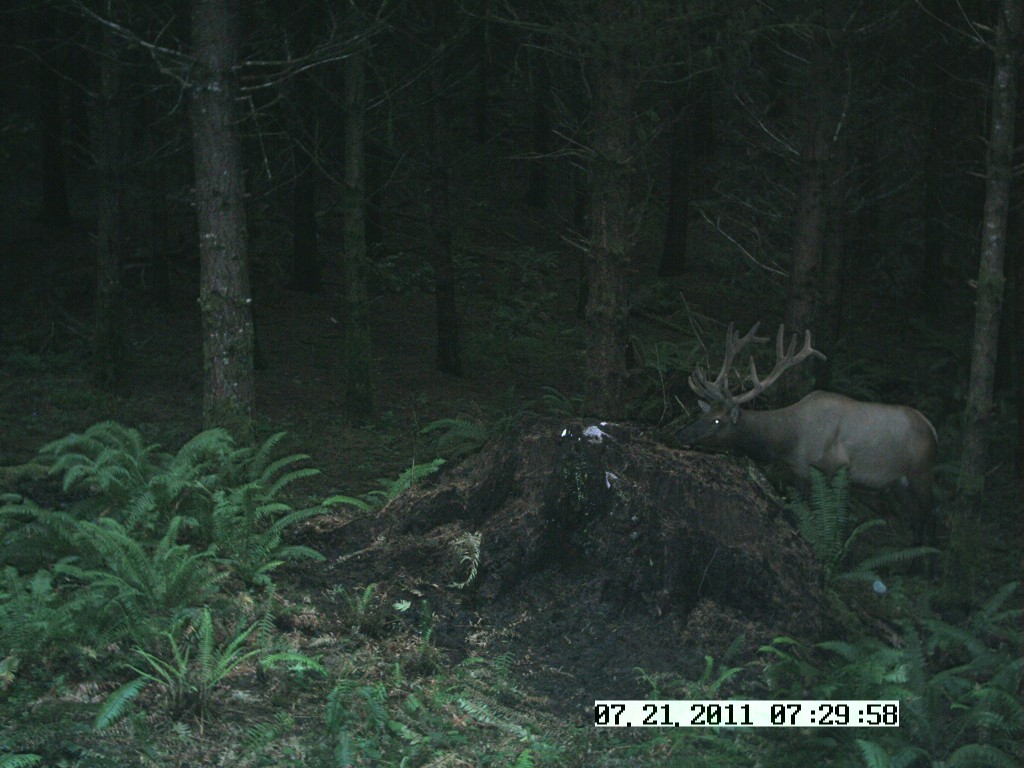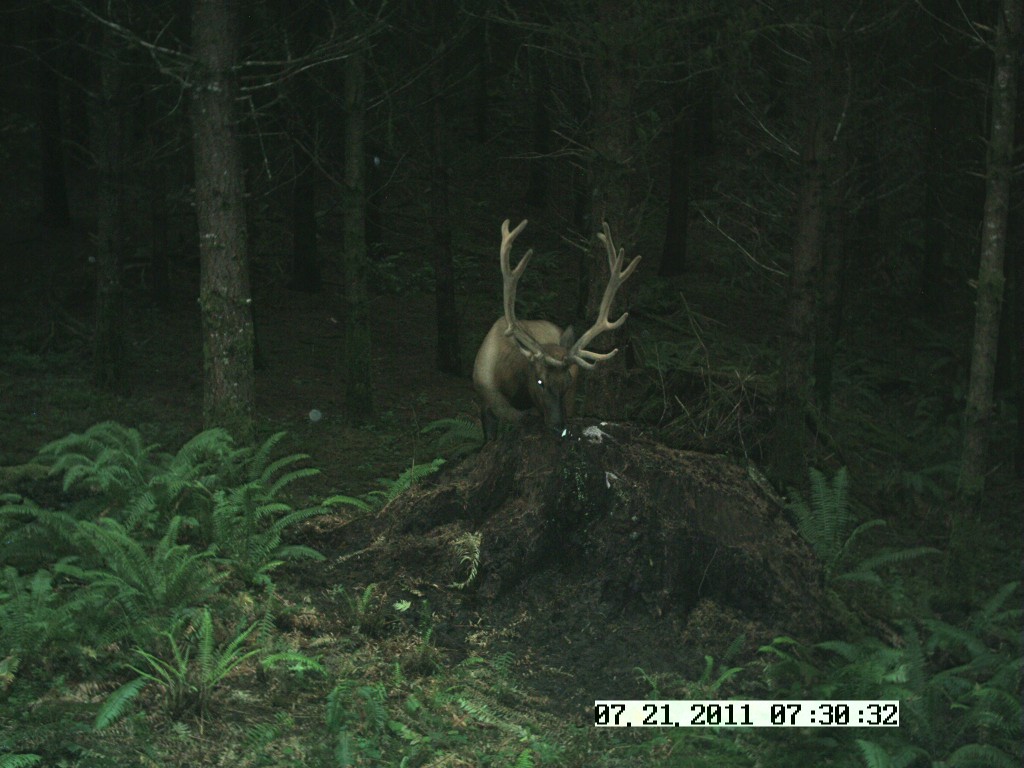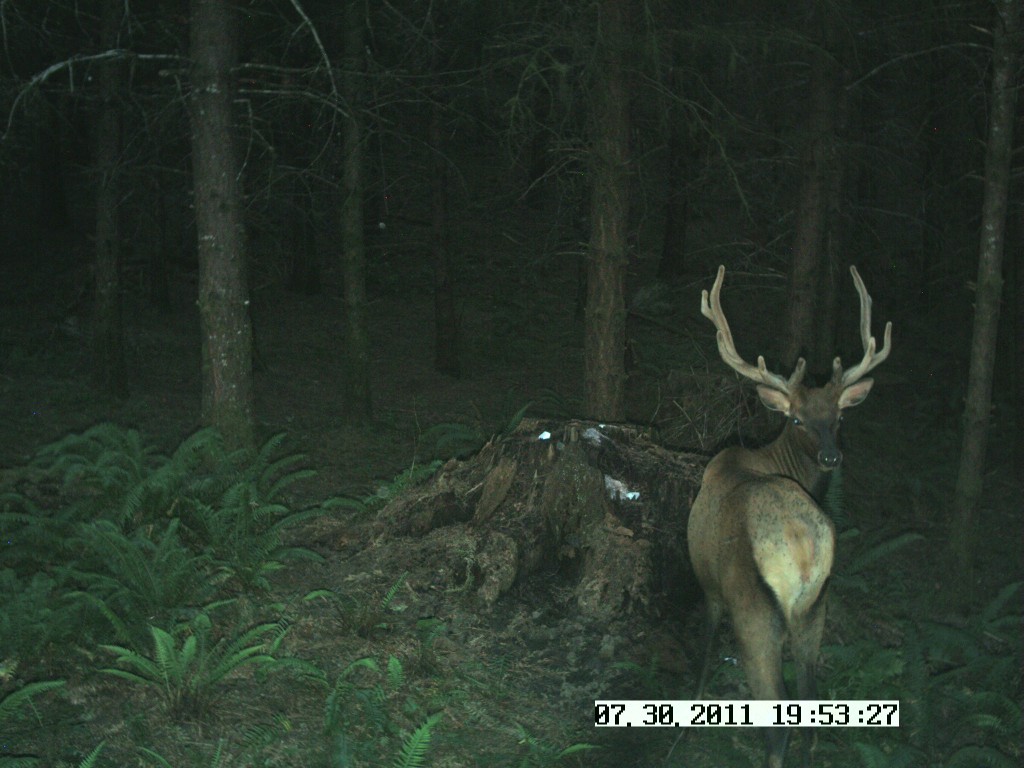 Alex was able to swap cards on a new location this week. It seems a bit dead in the area but things are beginning to pick up. There were a couple smaller bulls that returned to the salt on a few occasions. This guy may be worthy of an arrow come the second weekend of season!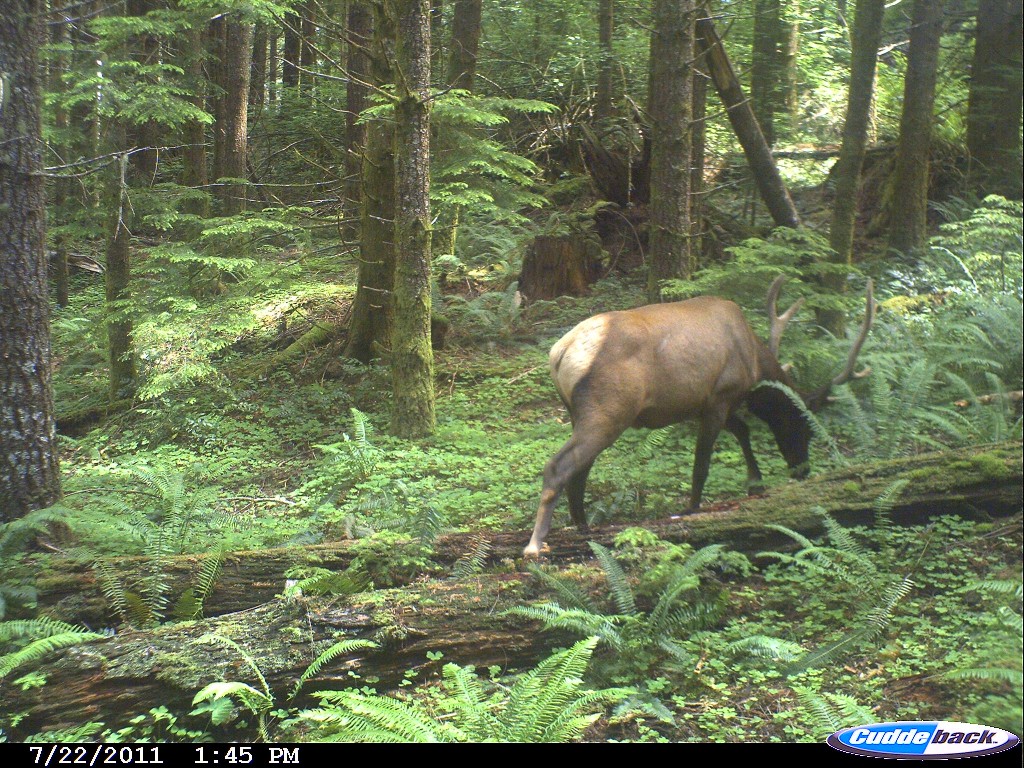 Can't wait to see what's on our other cameras! We are checking a few this weekend so stay tuned; the Western Oregon woods are heating up!!!
July 23, 2011
This past week was a Blacktail frenzy on the trail cameras as the Elk have begun their feeding cycles. This time of year Elk typically make rotations every couple of weeks in order to sustain their eating habits; leaving the salt to the deer! The antler growth for bucks seem to be a bit behind in our areas, but with all the wet weather the feed is in prime condition for full development. The Blacktail photos are still great and they get us just as excited for August 27th to get here!!!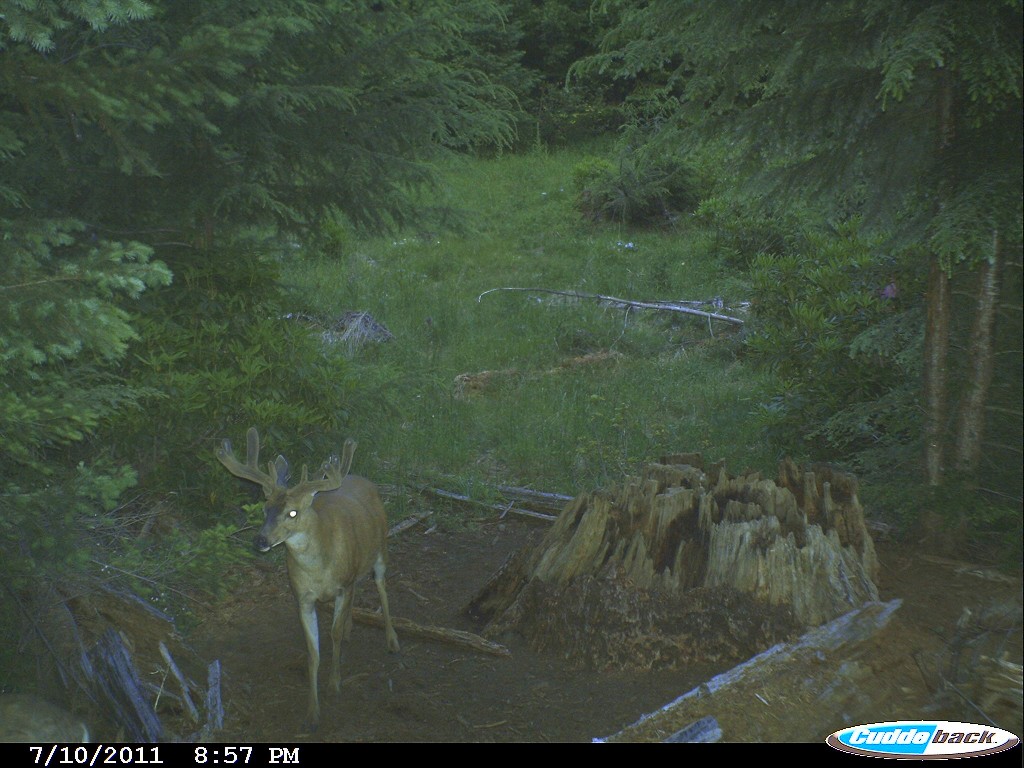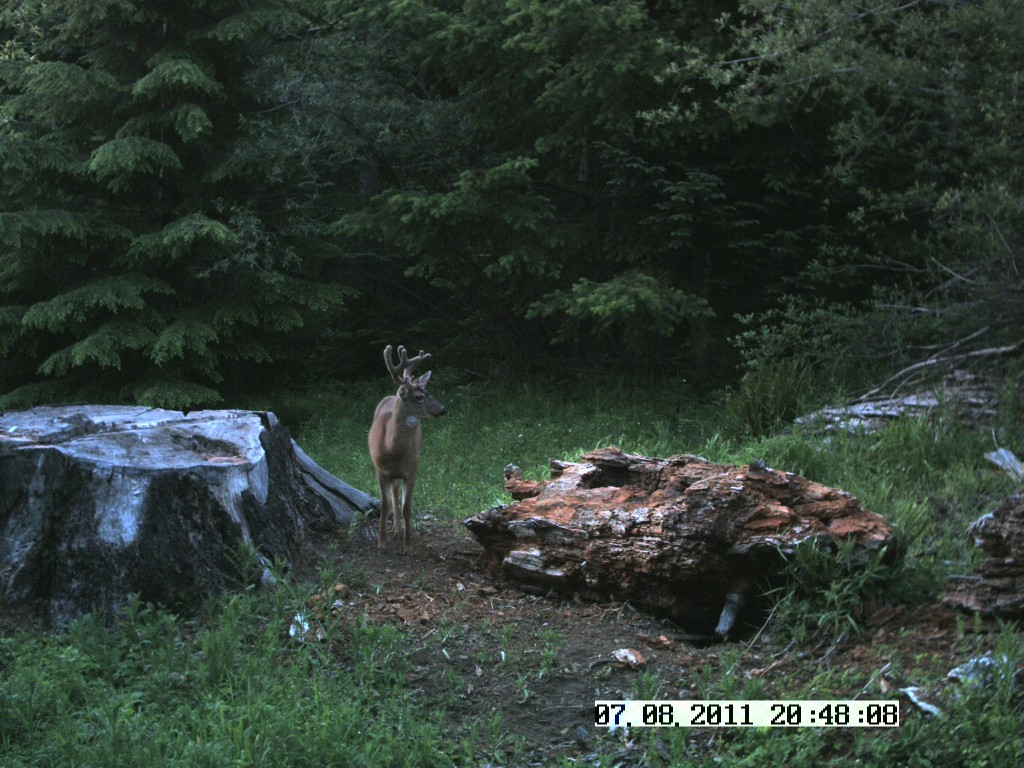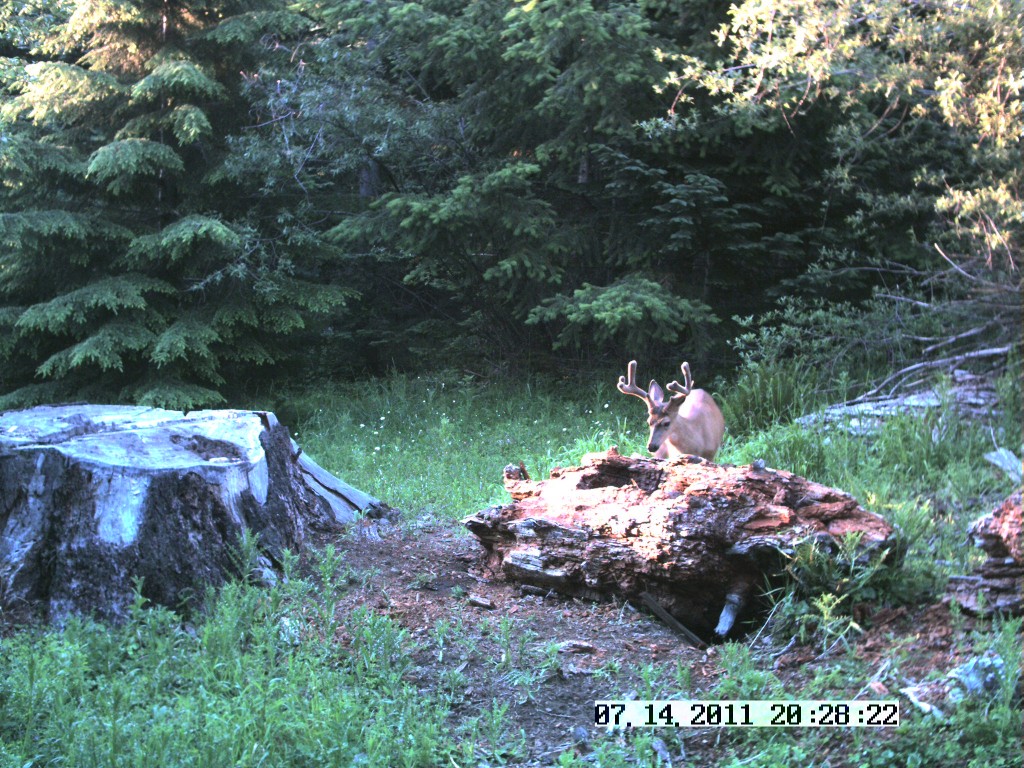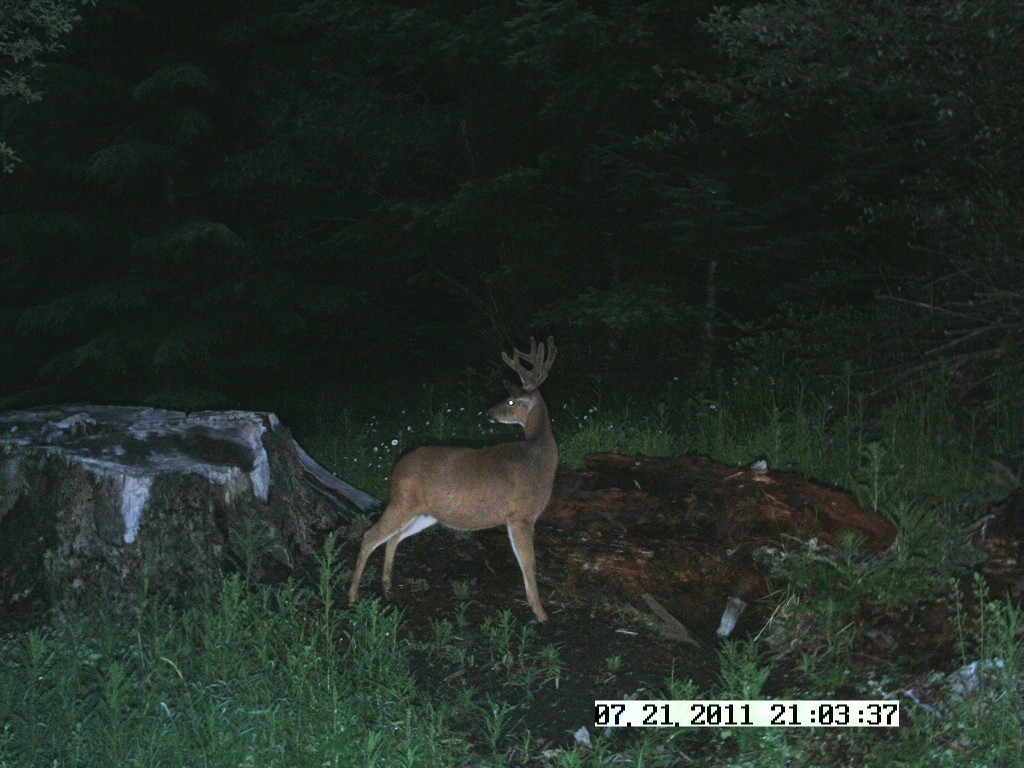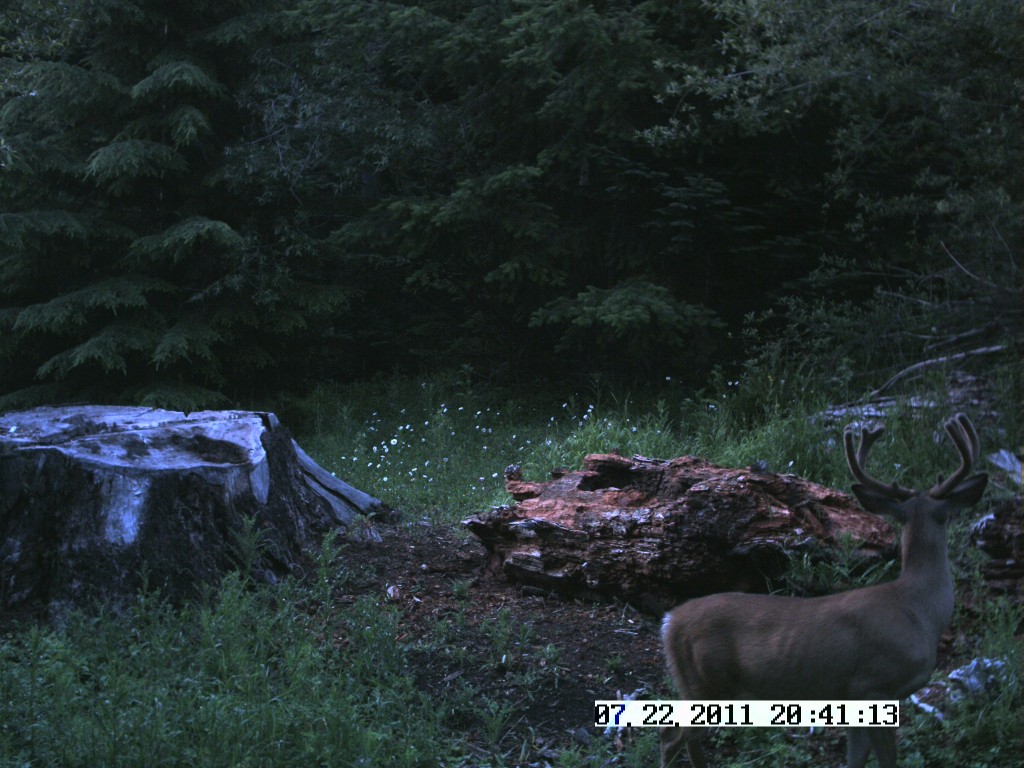 The elk should be cycling back into the area for the next batch of photos… Look for an update in the coming week!
CAUTION: The bees are out in full force! Don't forget to watch where you step… Alex ran into this good sized nest of Yellow Jackets this past week! First of the season for us…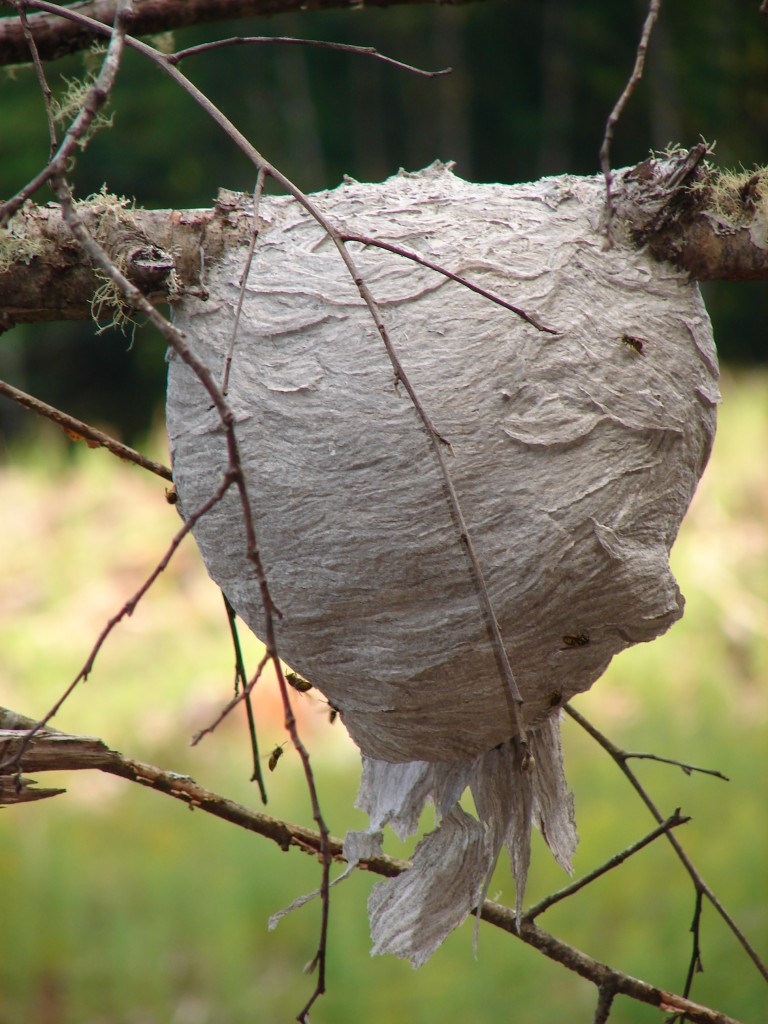 July 16, 2011
ZMA was in the woods this weekend checking and setting up trail cams. We are very happy with the pictures that we got. Seeing these big dudes are getting us really excited for season to get here!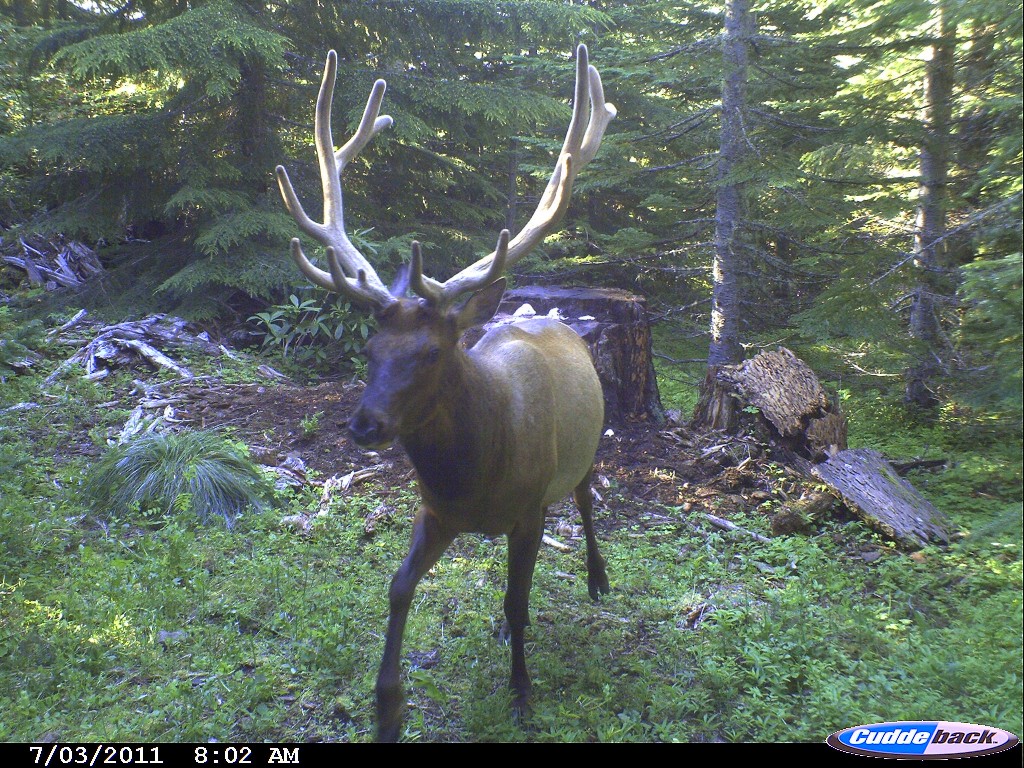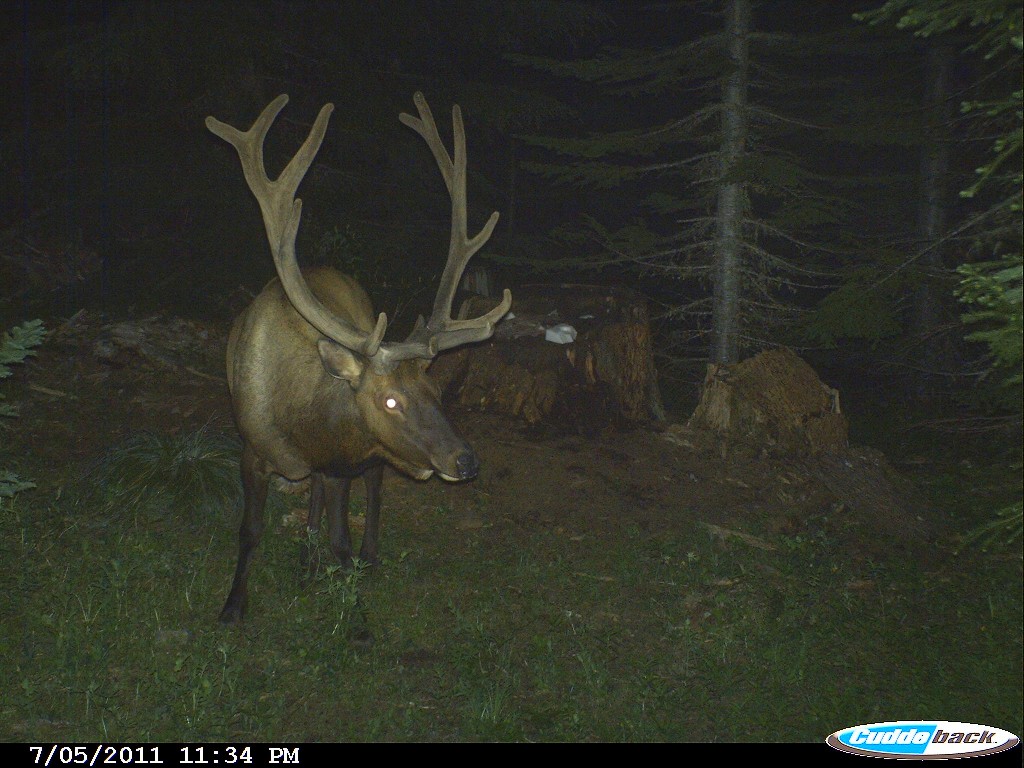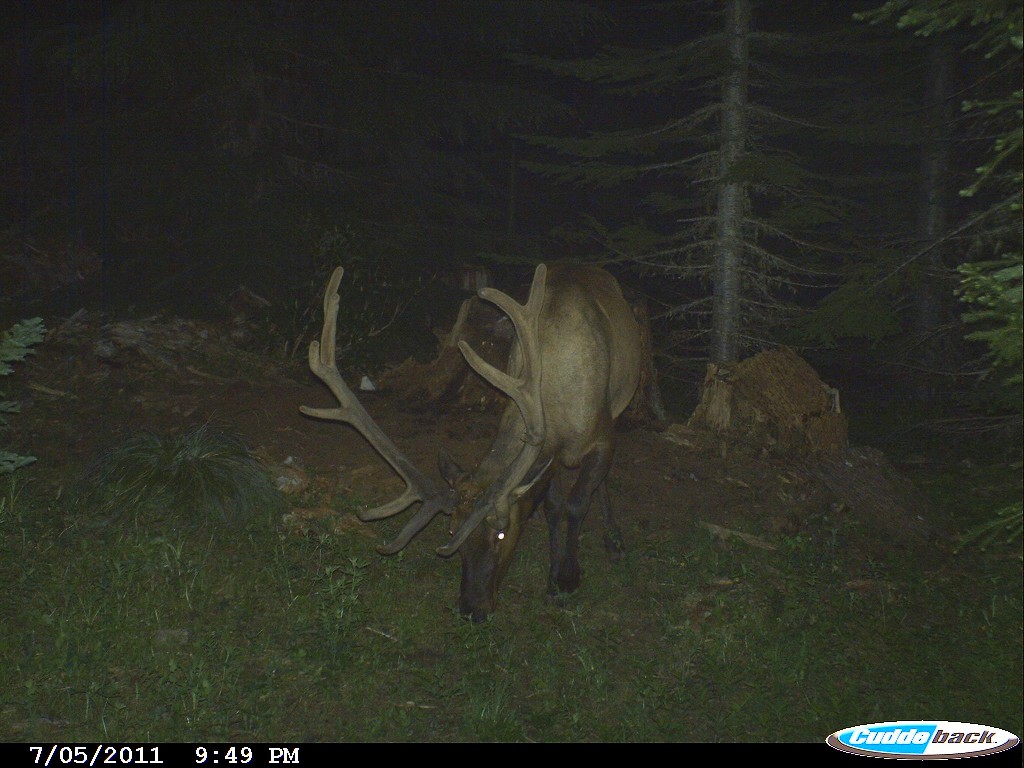 We walked up on a herd of elk in one of our camera locations that had not been set up yet. Looks like they have been missing our salt this winter…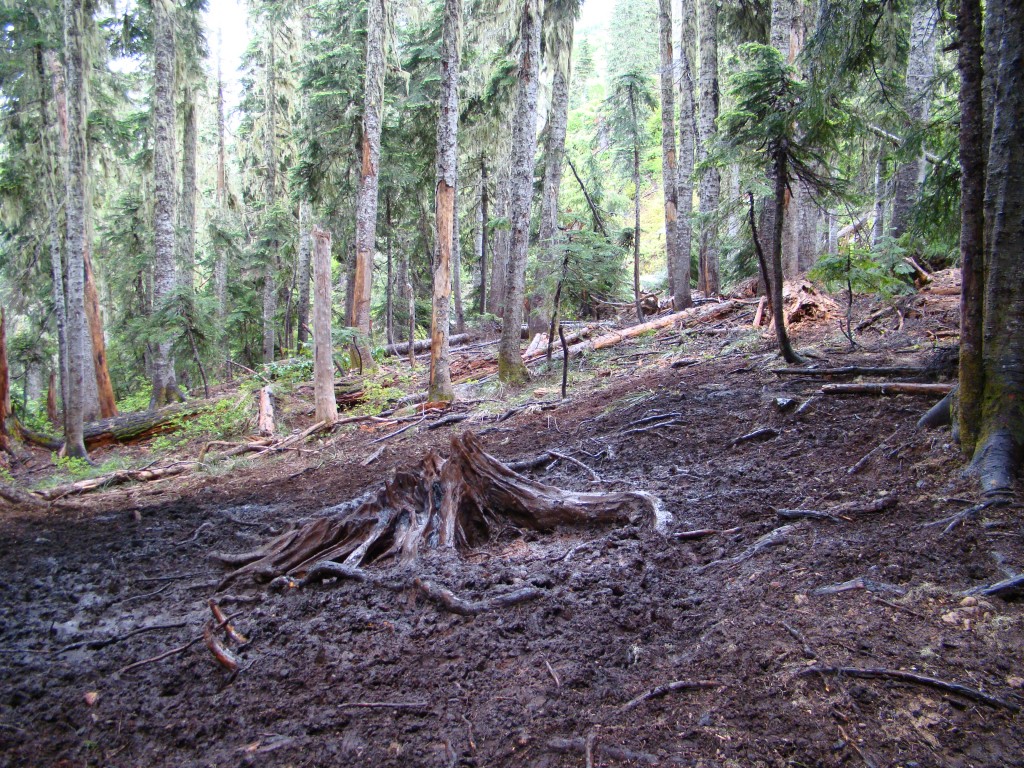 In other ZMA News, Alex got engaged this weekend! Congratulations Alex and Amanda!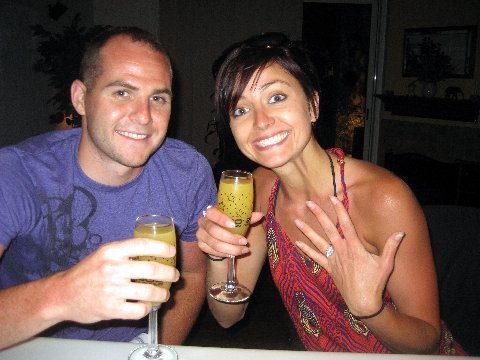 July 2, 2011
The long awaited spring turkey hunt is now finished! Tune in as Alex and the team work together to call in and arrow a nice tom from the double bull blind! This footage is a glimpse of how we have taken your criticism to the big screen, and are working on producing quality Western Oregon hunting! Please enjoy our first recorded kill of 2011.
 June 25, 2011
We have a treat for you guys this week! ZMA got some footage of some beautiful Roosevelt bulls in velvet a couple weeks ago and we wanted to share that with you. Hope you all enjoy!
June 11, 2011
ZMA found the elk this weekend! We set up to glass for some bulls and within minutes we had spotted a bachelor group of 8 branch bulls. We watched them until dark, and came back the next evening with the video camera to record footage of these grazing beasts. Sure enough they were right back in the unit again! We were able to close the distance to within 60 yards and get some killer footage of them feeding. Here is a shot of Alex recording the largest bull in the herd. He had no idea we were there, it worked out perfect!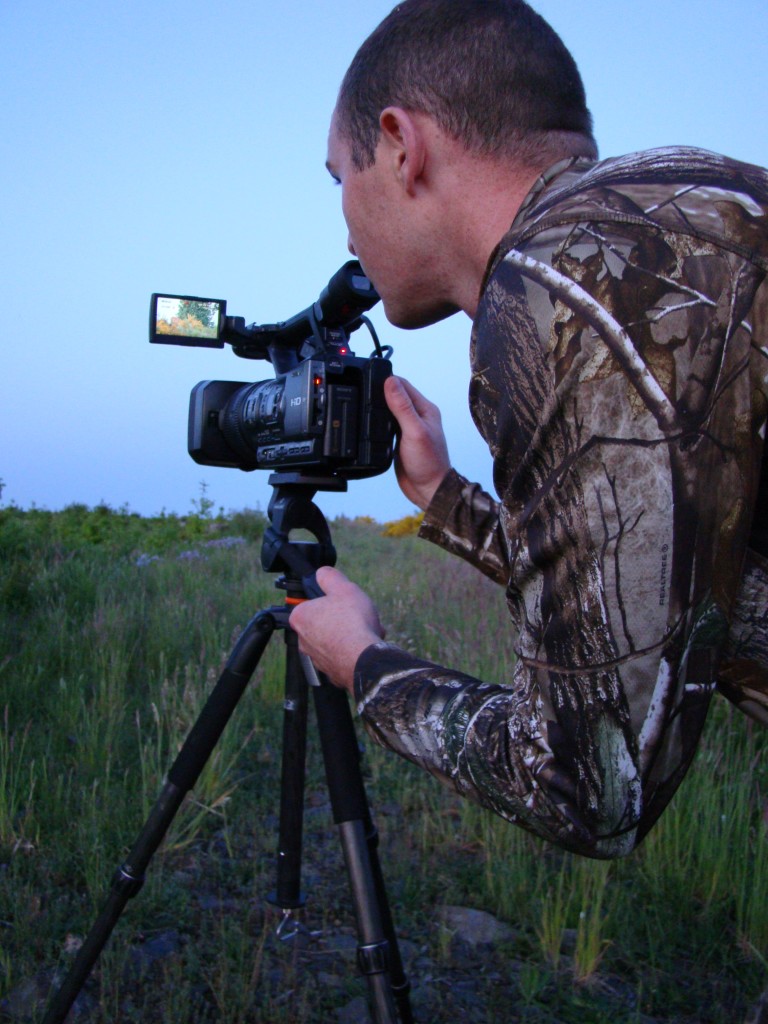 We also made a trail camera run this weekend and saw these little guys and their mothers on the way in.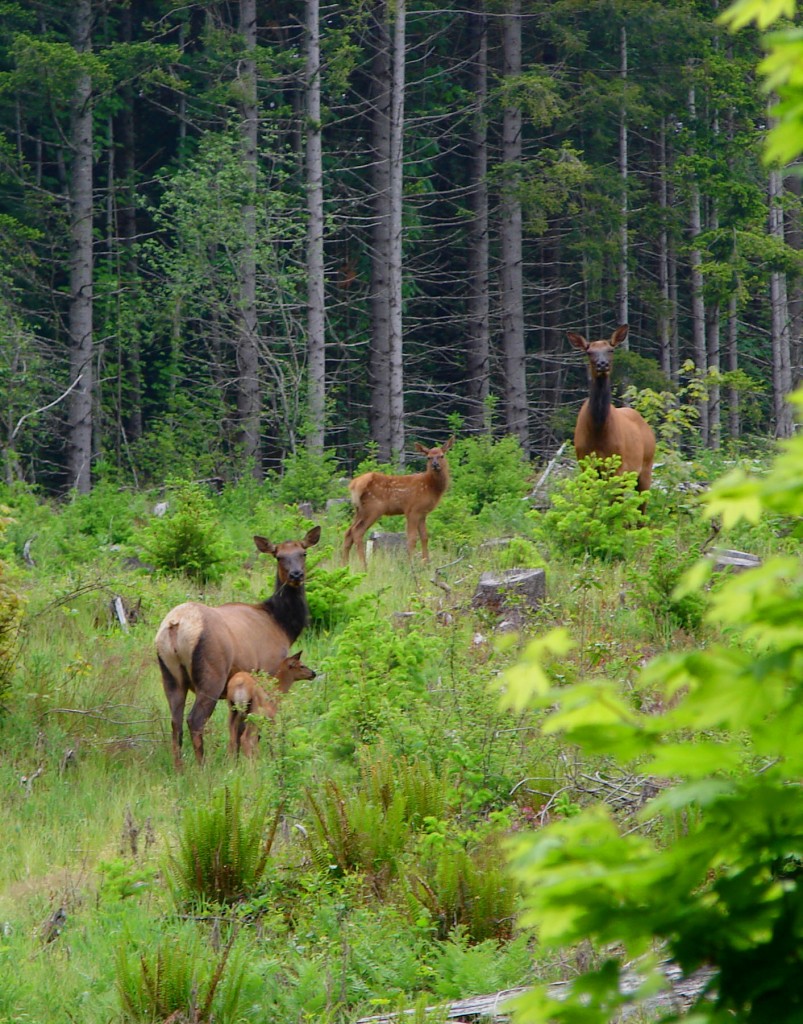 The pictures off the trail cams were decent this week, some bulls, coyotes and even a group of cougars!!!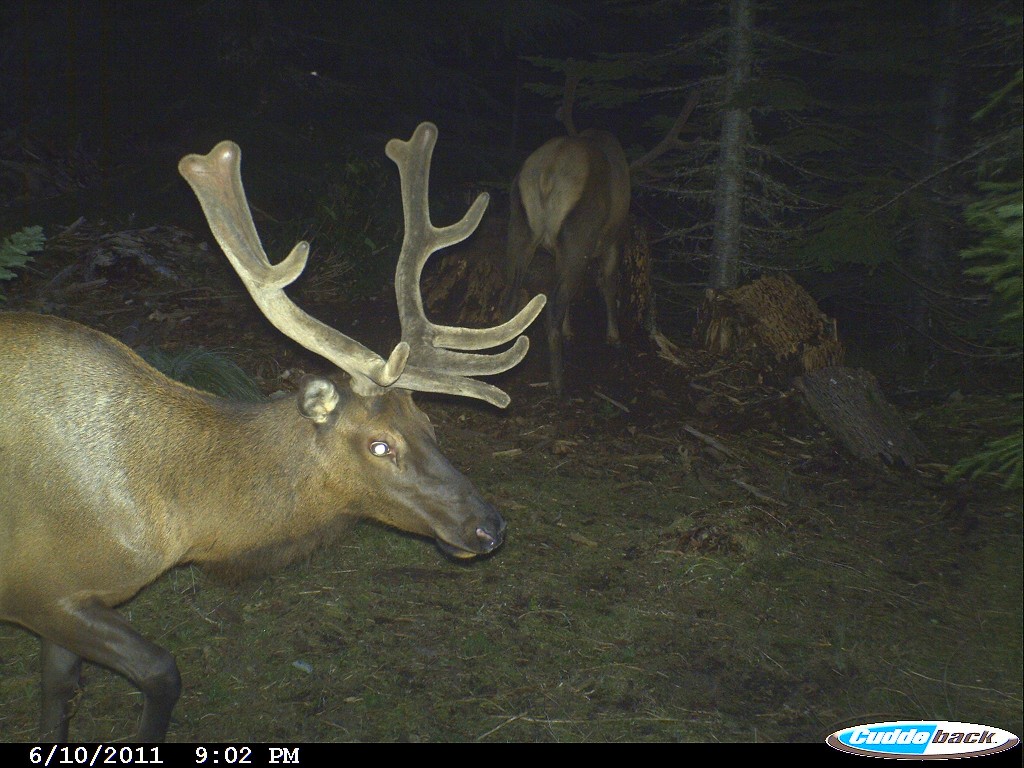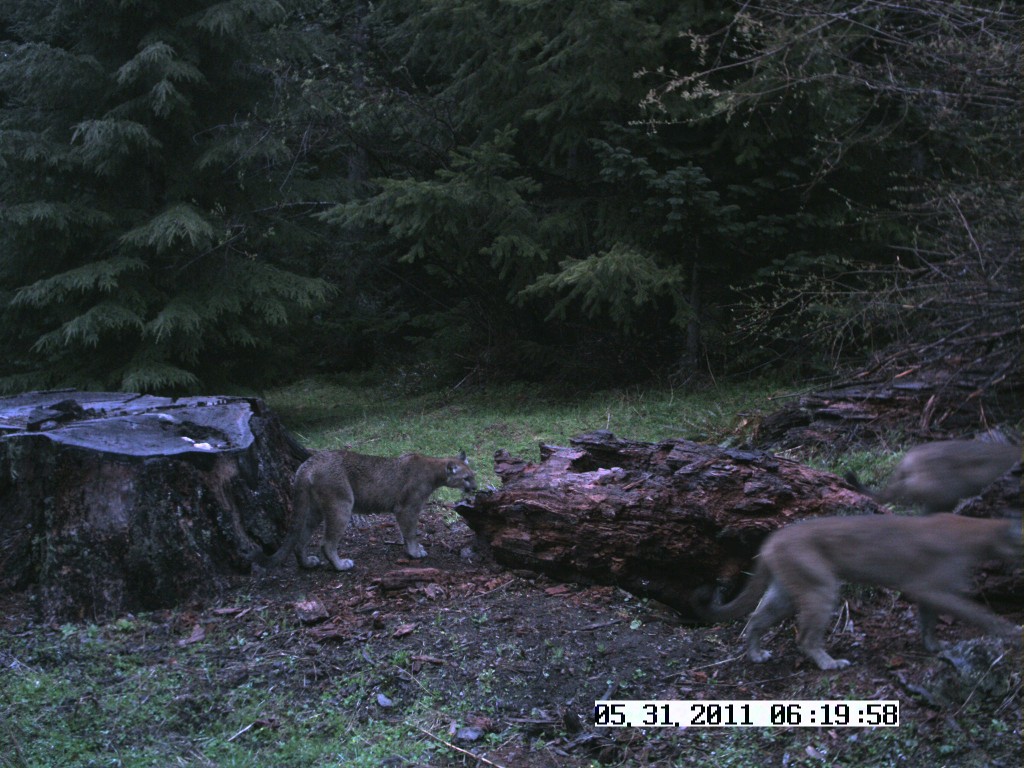 June 5, 2011
Saturday, we dove into some of the most remote National Forest land Western Oregon holds to its name. ZMA was in search of some back country elk habitat to deploy our trail cameras into. The old growth canyons proved to be bold and rugged as we climbed over its tall ridges and deep creek draws. The area did not have much for "benches" that would sustain many elk so we packed out the salt and trail camera we had intended to put up to save it for another location. To our surprise, on the way out we stumbled across a nice brown blacktail antler laying in an open patch of timber. This antler was soon to be covered up by the raging growth of the Western Oregon spring.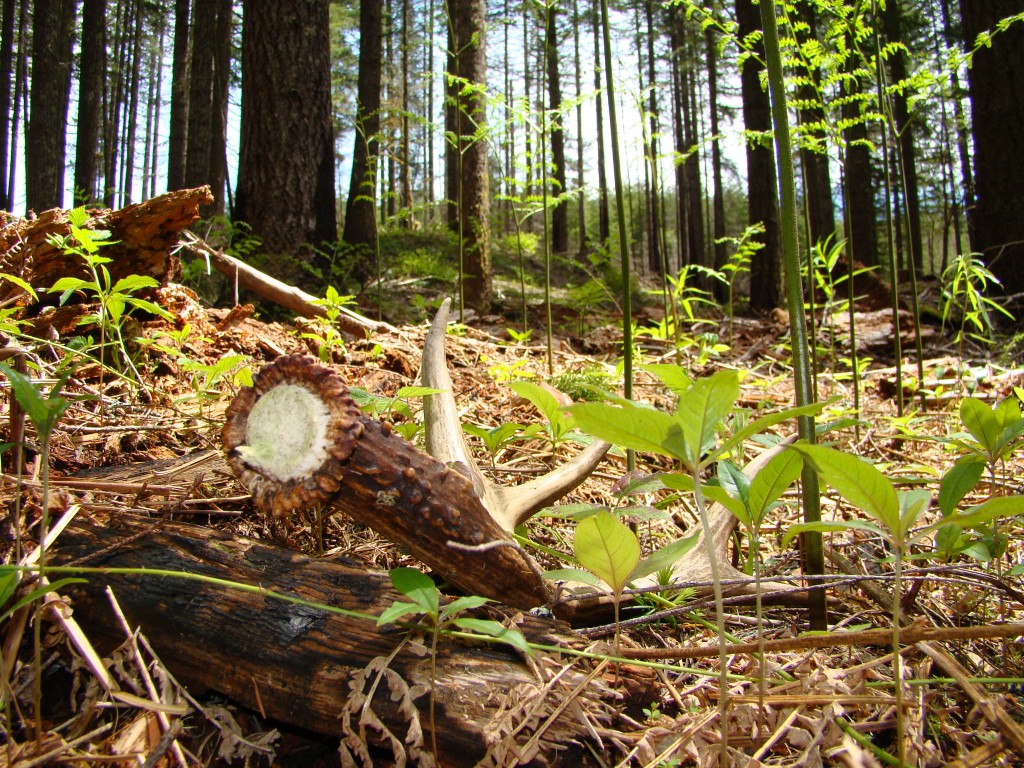 After recovering from Saturdays hike, Sunday morning Mike headed out in search of another bench that proved to be popular location for big game. On the way in, this fresh bear girdle caught his attention and reminded us why the timber companies appreciate quality game management techniques. There are specific genetics associated with the habitual "girdling" of trees, and as a result of this habit many trees are destroyed each year.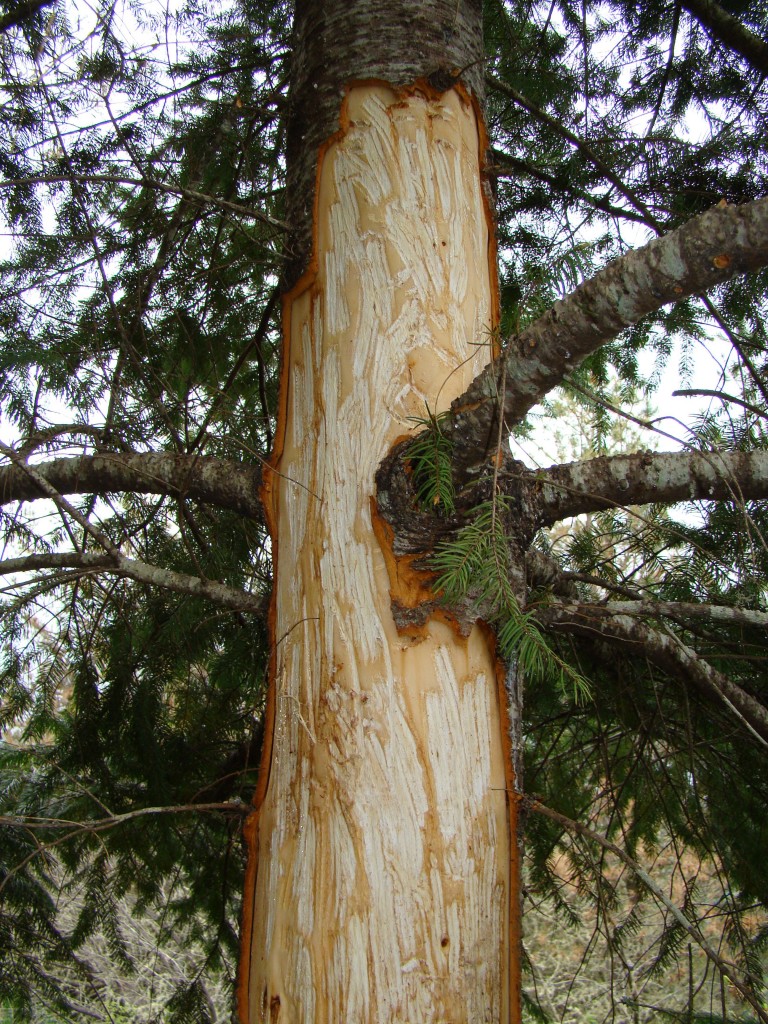 Next week will be a busy trail cam week as we have many that are ready to be "serviced" with batteries and memory cards. Check back soon!
May 28, 2011
Memorial Day weekend brings family gatherings for us at ZMA Productions, so because of these obligations we took advantage of living on the river and decided to try and hook into some fresh spring Chinook when we had a bit of spare time. We couldn't spend the day in the woods so we spent a little time on the river instead. It paid off as Zac hooked into this guy at the tail end of the Salmon hole Saturday afternoon. Fresh fish for dinner this week!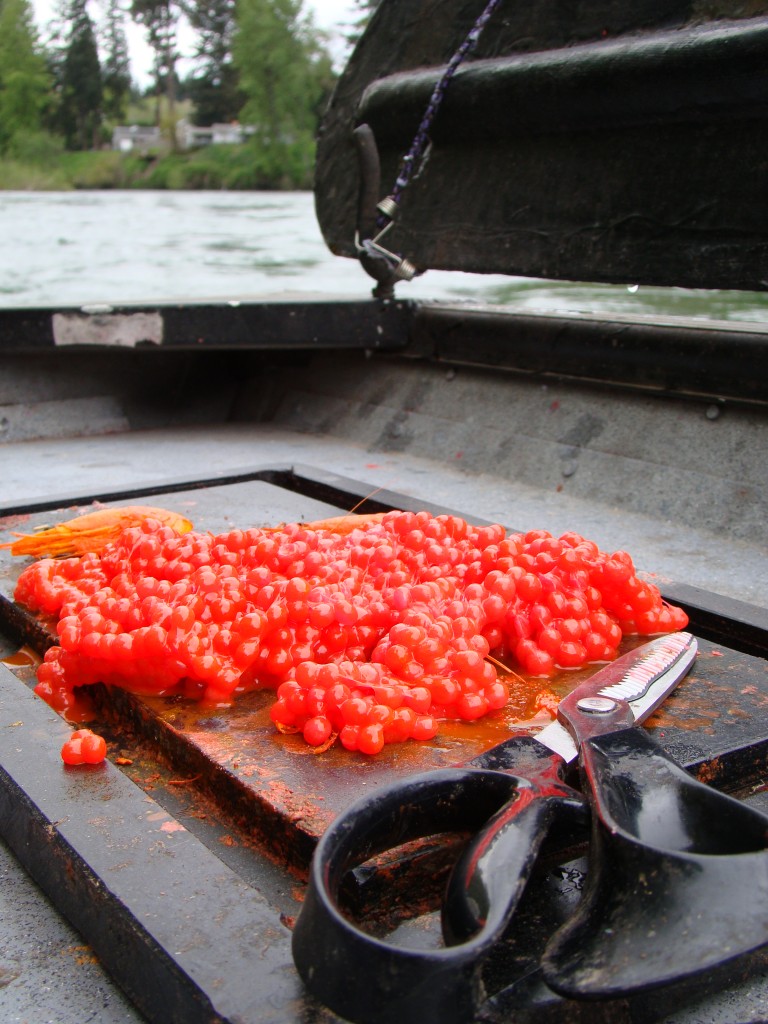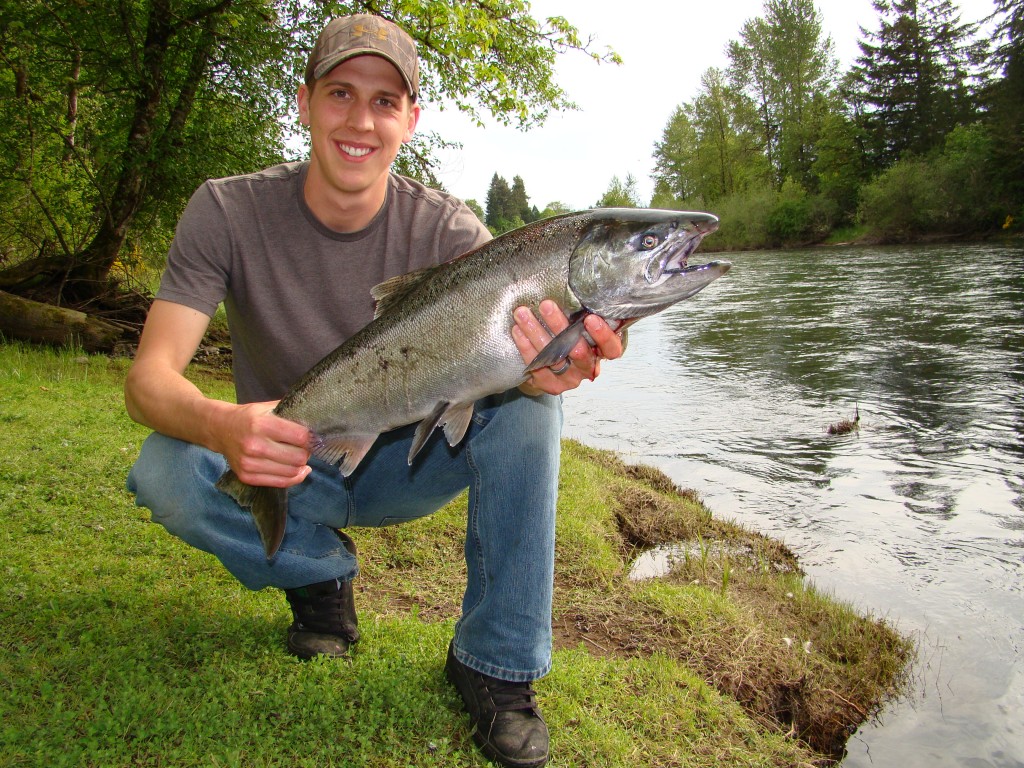 We did manage to get up in the woods Monday to start another salt lick and snapped this shot. We thought it was worthy to share!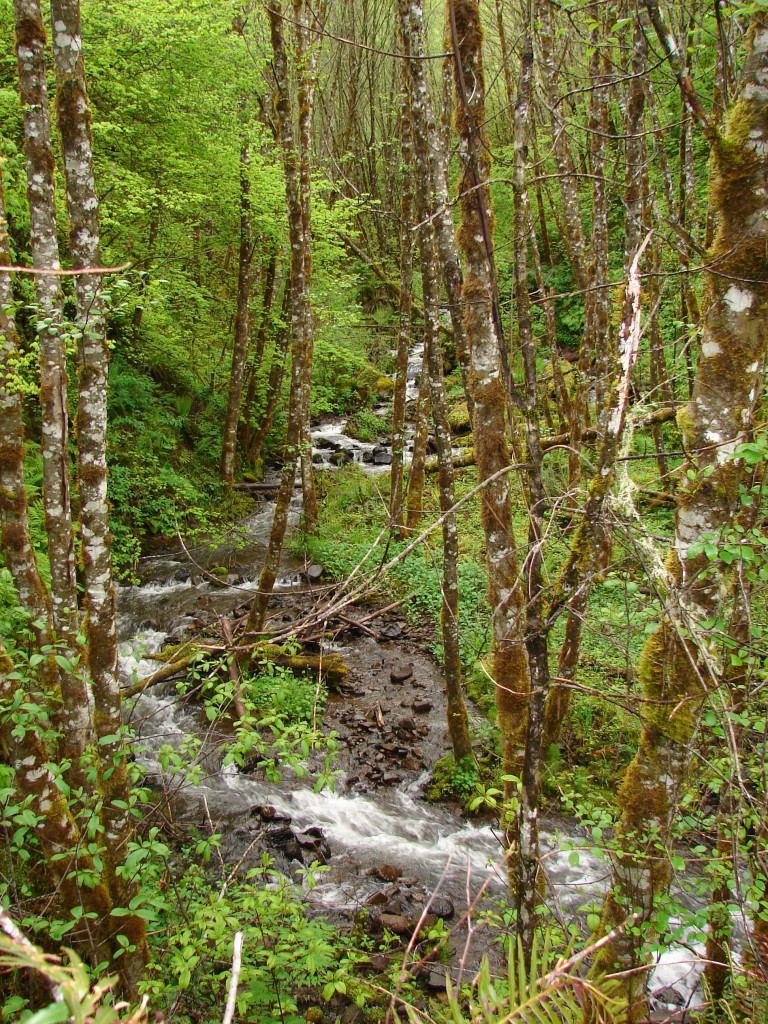 May 21, 2011
ZMA pulled some footage off the slopes this past weekend after spotting a small bear that we decided not to pursue. The bear was feeding out into a "greened-up" opening in the timber a long ways away as the decision was made that it was just too small. It is nothing too exciting but we figured we would share it with you as we want to fulfill our promises of keeping you updated. Hope you enjoy!
May 14, 2011
ZMA split up this past weekend as Zac was on the beach in Hawaii enjoying the sun, Mike and Al were getting things done on the western front! The snow setting us back once again forced us to get away from spring bear hunting for a weekend, and head full swing into trail camera season. Saturday afternoon we headed for an area that has freshly melted off allowing the deer and elk to regain their ground in search of fresh green-up and salt. We quickly figured out that much has changed over the winter as we had to chop our way into the camera site.
Never forgetting that the bears will be on the prowl soon, we brought the "bear proof" box in to protect our camera from the hungry and curious jaws of Western Oregon predators.
Next weekend the snow should finally be manageable allowing us to get the rest of the trail cameras up and focus on some spring bear. The slopes should be greening-up with fresh vegetation forcing the bears into a vulnerable position just two weeks before the season ends! Stay tuned…
May 8, 2011
This past weekend was a bit slow for us as we were yet again constrained by the snow. Mike and Alex tried to access some of our hunting ground to put up trail cameras using our Polaris RZR but the snow is still to deep!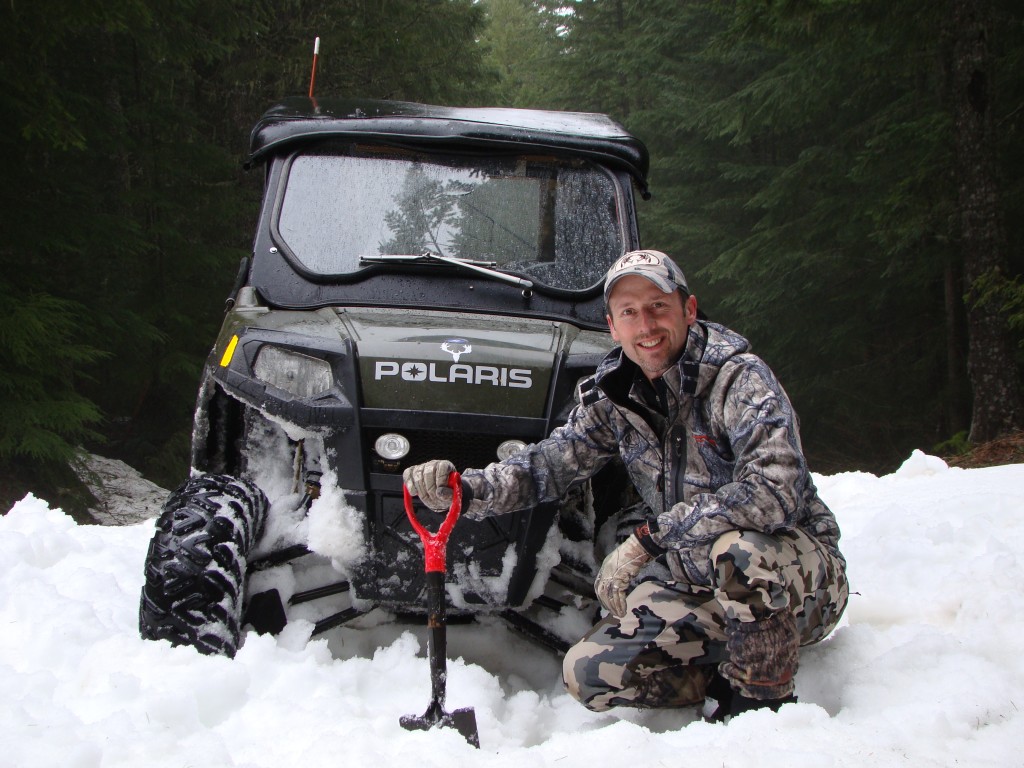 After admitting defeat, we loaded back up and jumped drainage's to check our low land trail camera stash. Our favorite "Old Growth" bench that had been producing many photos of deer in recent weeks turned out to be dead for some particular reason. We have never seen a cat with such a full stomach. Now we know where the deer are!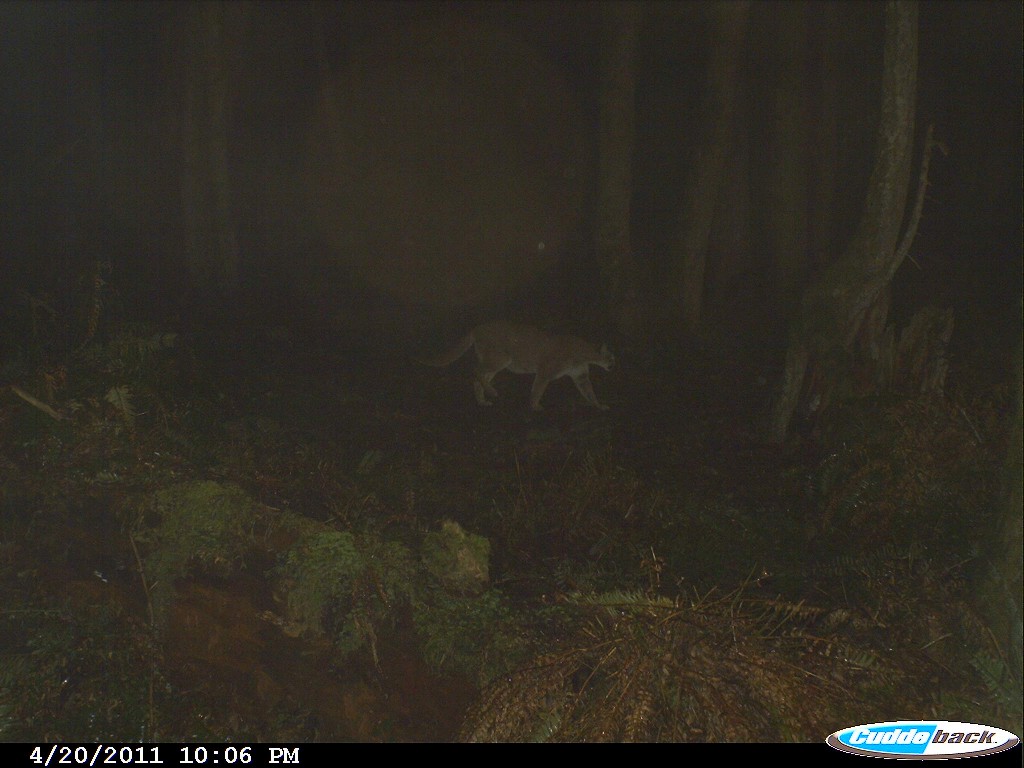 April 30, 2011
ZMA was at it again this past weekend as we hit the low land turkey mecca on Saturday morning. After our plans for a spring bear hunt foiled due to the low falling snow, turkeys became our primary focus. Arriving at our first set up of the day just after the weather broke, Zac got on the peacock call to locate the flock. Zac's call was Instantly cut off by a mature tom about 200 yards down the hill. Needing to move quickly we grabbed the camera, blind and bows and dove into the timber to close some distance before we set up. Easing to the edge of an open meadow we threw up the blind and the three of us climbed inside. The tom was on top of us before we knew it, and was working his way into the opening. We had two decoys placed 10 yards out in front of the blind that immediately drew his attention. He came to about 30 yards, but not another inch closer. We spotted a hen working her way towards him, but he turned and went back down the hill into the timber. After 30 minutes, it had seemed the bird had lost all interest in our set, so we decided to gobble in hopes that he would prove himself to us.  There was silence as he would not make another peep. We determined that he wanted nothing to do with our set, and began packing up. Just as we were lifting the blind Zac said STOP, he's right there!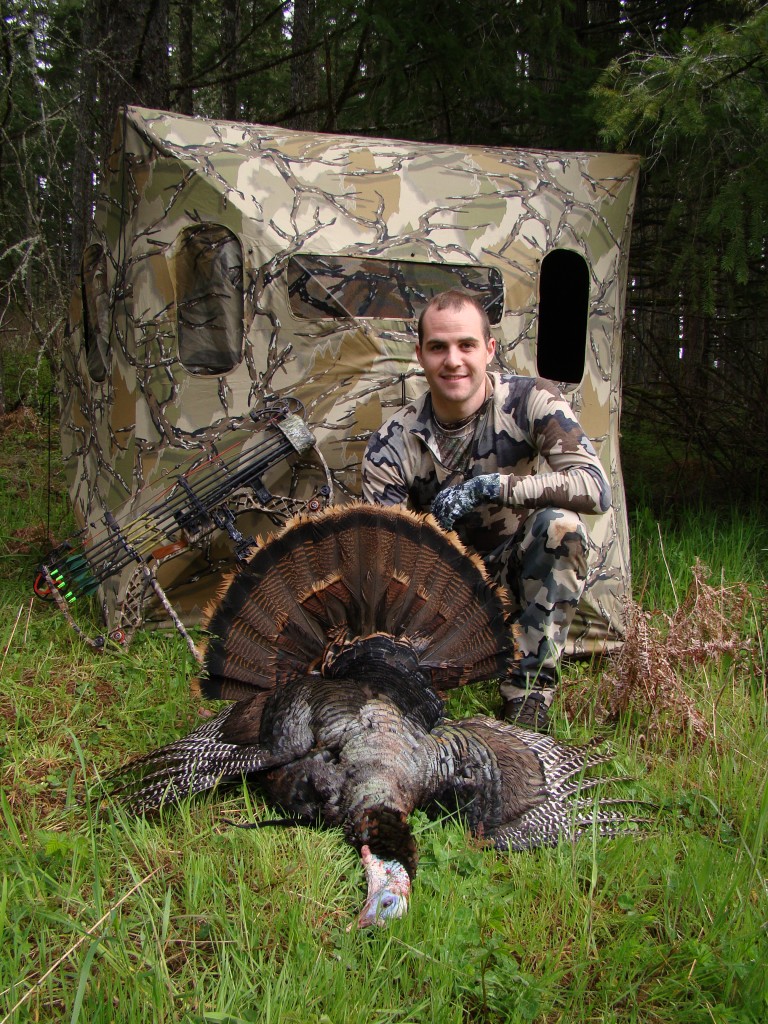 The tom had circled around and came in behind us with  the hen following close behind. Alex Came to full draw just as the birds came in front of the blind, allowing Zac to zero in on them with with the new HD camera. They immediately knew something was up and started to turn back down the hill. Mike clucked at the tom forcing him to stop and gobble just as Alex placed an arrow into the cavity ending the hunt! Zac did an amazing job capturing the entire footage in great quality. We look forward to sharing the video with you all, but for now photos will have to do.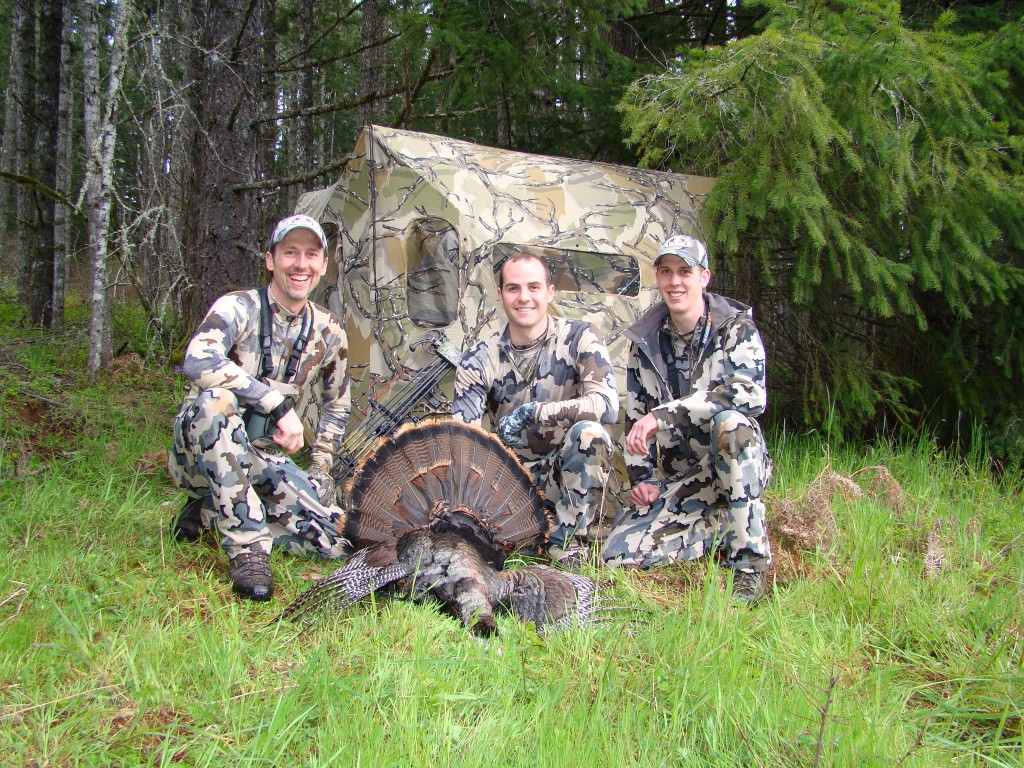 The beard measured in at 8″ with 1/2″ spurs weighing just over 20 lbs. Nice bird Alex!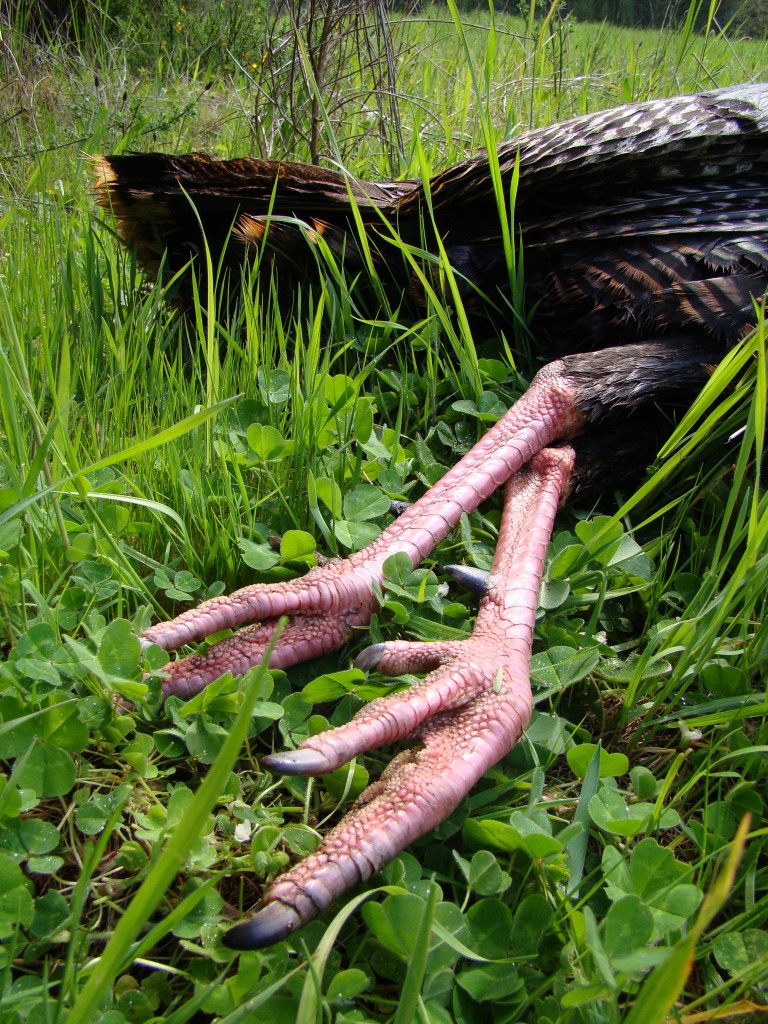 April 23, 2011
Mike and Al were in action this past weekend taking advantage of the long awaited nice weather. They hit the slopes of the Northwest cascades in pursuit of our bear hunting spots to determine if the nice weather had allowed these animals into bow range. The three of us were successful in drawing our spring bear tags and are very anxious to begin filming with the new equipment. We have recently purchased the new Sony AX-2000 to fulfill our promises of "GOING HD" with our videos. Much to our surprise, the snow is now our only set back! The new Ultralight KUIU gear Al was sporting last weekend proved to be above all so far as we were able put its specifications to the test. Thanks Jason!